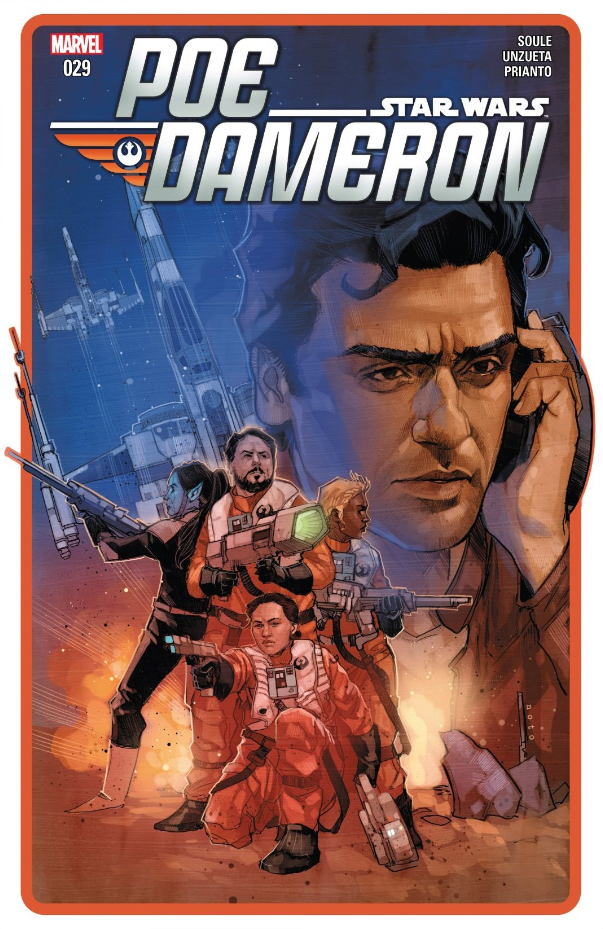 With only three issues left in the Poe Dameron series, writer Charles Soule and artist Angel Unzueta are relying on Black Squadron to see us through to the end. If you've been following the series up to this point, you'll know that the current timeline is set just after the remnants of the Resistance fled from Crait on the Millennium Falcon in The Last Jedi. In Poe's desperation to find answers regarding the whereabouts of his squadron, C-3PO discovers a partial transmission from Black Squadron's Jessika Pava, and Poe clings to hope that he will find a clue about the location of his team. Spoilers ahead…
After their victory on Starkiller Base, General Leia Organa sent Black Squadron to round up some much needed support for the Resistance. This explains their absence during the evacuation of D'Qar and why they were nowhere to be found throughout the on-screen events of The Last Jedi. If their mission was important before, it is even more so now after the destruction of the Resistance fleet and the ground assault on Crait left the Resistance in shambles.
In Poe Dameron #29, Soule and Unzueta set out to show us what was going on with Black Squadron during the events of The Last Jedi, as the team travels to other worlds relying on their amateur diplomatic skills this time around more than their abilities as hot-shot pilots. The first stop on this mission takes the team to the planet Pastoria, where they hope to win the support of the insectoid King Siroc, a being with a vastly influential voice that could garner even more support on its own should he be persuaded to join their cause.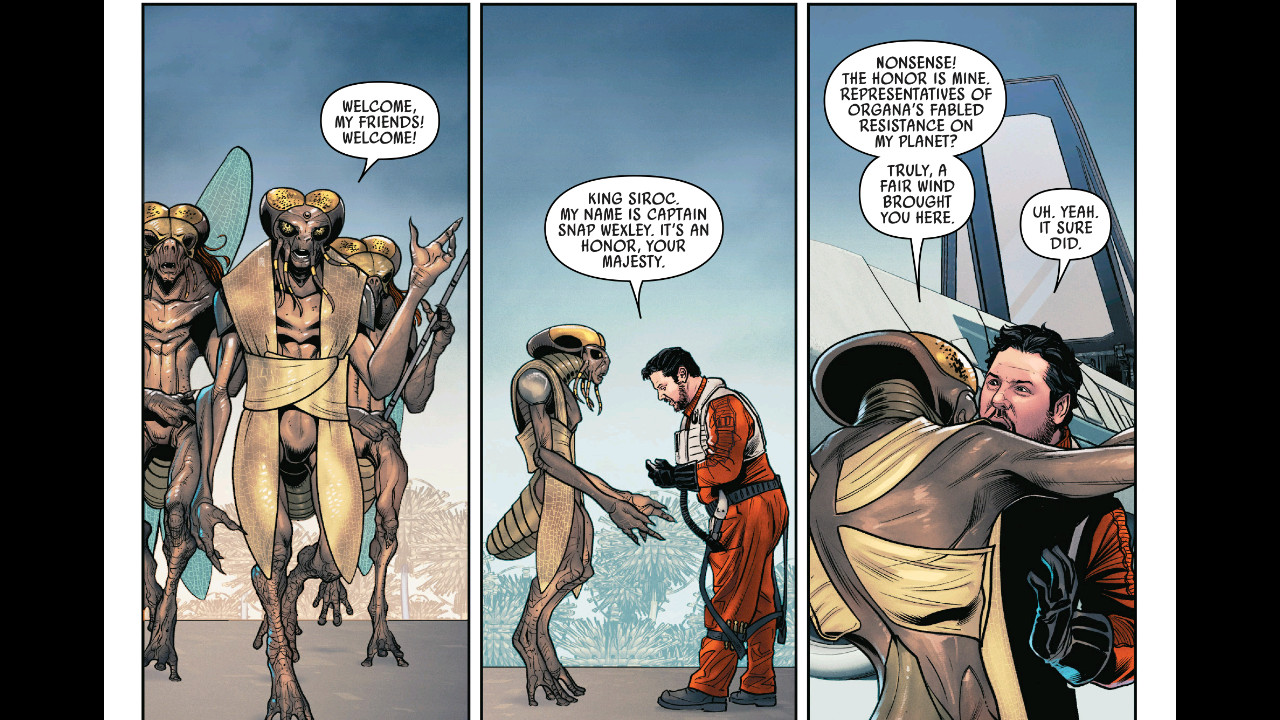 The whole situation with Siroc is a little fishy from the very beginning, as he comes off a little too friendly, giving off that Lando Calrissian on Cloud City vibe as soon as he introduces himself. Sura is a little wary of giving him their complete trust, knowing that there's always a catch to any support that beings of his type could provide. The team soon discovers how right she is when Siroc offers his support on the condition that they do something for him first.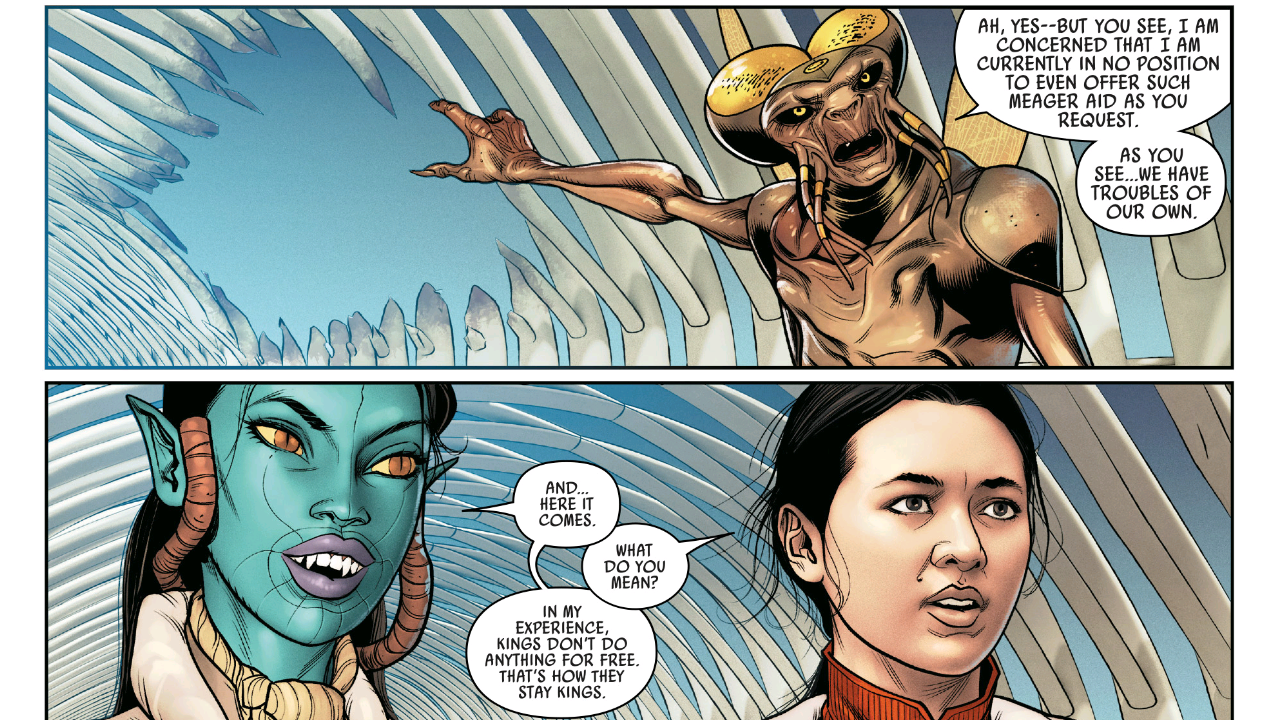 Snap, the temporary leader of the squadron, is obviously a little hesitant to go along with the king's request, but he knows how important Pastoria is to the survival of the Resistance, so he goes against his perhaps better judgement and offers Black Squadron's assistance.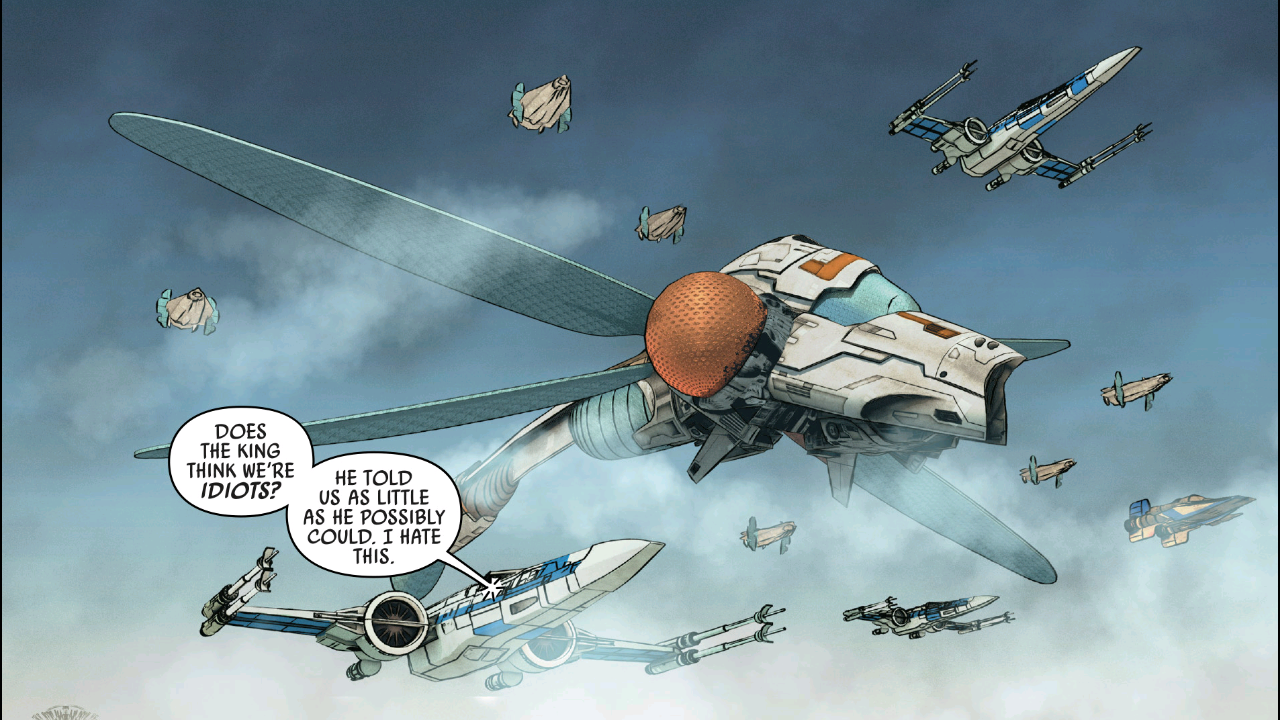 The job was bid as a simple escort mission to defend Siroc's transport against any possible attacks from a local terrorist group that Siroc claims have been giving him trouble. When the group engages them on the way, Black Squadron is forced to defend themselves and help Siroc's men fend off the attackers. However, Snap and company are surprised when, after the attackers tuck tail and run, Siroc's Colonel orders their continued pursuit and systematic destruction. It becomes clear that there is more going on than can be seen on the surface.
Back on the ground, Snap demands answers, and Siroc reveals that he used them to help destroy one of his greatest rivals, thus securing his continued ruling of Pastoria. Siroc then explains that he actually has no interest in helping a lost cause, choosing to place his bet on the more powerful First Order instead. He warns Snap to pay attention to the way the wind is blowing and fly in that direction, a stark metaphor for the First Order's recent rise to dominance.
The manipulative monarch is not completely untrue to his word however, as he does give Snap's team some much needed fuel and supplies and sends them on their way. When his teammates ask him where they're headed next, Snap responds with the heart of a true rebel. After listening to Siroc's advice – Snap goes with his heart instead – deciding to fly right into the wind, no matter how hard it blows.
So what happens next for Black Squadron? Who will they bring to their aid? Will they're mission bring them success or will it end in failure like the majority of the characters in The Last Jedi? With only two issues to go in this series, I can't wait to see what Soule has in store.
This issue was an entertaining little side adventure with some characters that don't often see the spotlight, and I always appreciate that aspect of Star Wars media outside the films. There wasn't a whole lot of plot going on in this issue, but I think it was a crucial event for the team to discover their limitations regarding what they should be willing or not willing to do to accomplish their task. Snap has been a rebel since he was a teenager, and now his resolve is stronger than ever.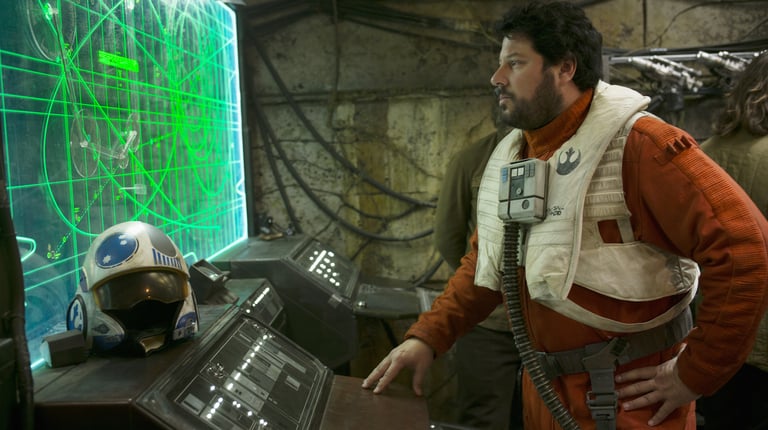 I get the feeling from the events in this issue that he will be a little less willing to compromise moving forward, relying more on his gut instinct as the team's leader. I'm hoping to see Snap and Jess back on screen in Episode IX, but I admit I'm a little nervous for the longevity of Poe's old friend, Sura, and Karé, Snap's longtime teammate and wife. I have a strong suspicion that actor Greg Grunberg (who plays Snap in The Force Awakens) will be back for the final installment of the sequel trilogy. Grunberg is good friends with the movie's director J.J. Abrams, so I tend to think that Abrams will find a spot for him on the movie's character roster.
But that same confidence does not extend to the characters exclusive to this comic series, and I have my doubts (aside from Jess who was also in TFA) that they will ever make it from the comic panel to the big screen. So how would the loss of Snap's wife or any of the others affect him moving forward, especially now that his decisions for the team would make him responsible for whatever happens during their mission? I know he is aware of the risks already, but it would be interesting to see how his character develops after the loss of his wife or another team member, a tragedy that would also have a great effect on Poe Dameron.
Of course, this story could go completely the other way, and I'm all for it if that's the case. I'm ready for a happy ending, and nothing would make me happier for Black Squadron than to see them make it through to the end, all the way to the sequel trilogy's equivalent of "Yub Nub".
Score: 7/10
Poe Dameron #29 is available now in a comic shop near you or online at Comixology. Happy reading coming fans!
Jordan Pate is Co-Lead Editor and Senior Writer for Star Wars News Net, of which he is also a member of the book and comic review team. He loves all things Star Wars, but when he's not spending time in the galaxy far far away, he might be found in our own galaxy hanging out in Gotham City or at 1407 Graymalkin Lane, Salem Center, NY.
Click HERE to check out and comment on this topic in our forum The Cantina