This week we are joined by "The Outlaw" John Rocha from Collider Video to speculate on the future of Star Wars beyond Episode IX! We also find out if the Force is with us over several topics, and John Rocha answers the questions you submitted for him using #AskTheOutlaw! John was such a gracious, kind, generous, and awesome guest, we hope you enjoy this episode as much as we enjoyed recording it!
On this transmission of The Resistance Broadcast: John Hoey, James Baney, Lacey Gilleran, and our guest John Rocha from Collider Video!
IS THE FORCE WITH YOU?
…that Kathleen Kennedy will not be in charge of Lucasfilm after Episode IX.
…on Bob Iger stepping in to squash any potential sequel to Solo.
…on Lando returning to the saga for Episode IX.
Our DISCUSSION this week had us speculating on the future of Star Wars beyond Episode IX! We tackle this from all possible angles from business to content perspectives, including our takes on the future of Lucasfilm President Kathleen Kennedy and where the future stories within the franchise will go from here.
We put the RESISTANCE TRANSMISSIONS on hold this week in order for you to ask questions to our guest John Rocha, so you sent them in using the hashtag #AskTheOutlaw and he answered a lot! Did he answer yours? Check it out!
Be sure to subscribe to our YouTube channel or follow us on Soundcloud so you are alerted when new episodes post! If these formats aren't your thing, subscribe to us here on iTunes!
ASK THE RESISTANCE!
Did your question make it on the show? If so, great! If not, be sure to ask us your question for next time! If you would like to submit questions for the show you can tweet at us on our Twitter account @RBatSWNN, message us on the Cantina Forum in the questions and comments thread, or send an email to resistancebroadcast@gmail.com. Your support and comments are highly appreciated and you always make the show more fun! If messaging us on Twitter, make sure to include #AskTheResistance so we can access your questions directly every week.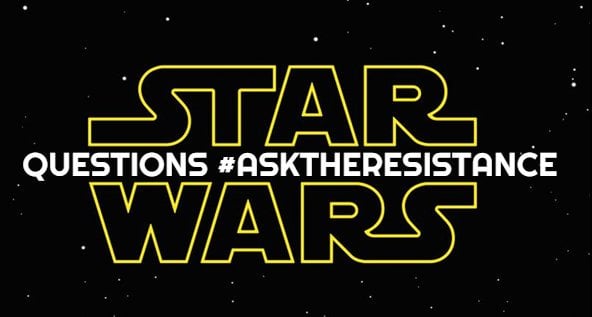 Special thanks to Matt Pasterick for our theme song!
John Hoey is the Co-Lead Editor and Senior Writer for Star Wars News Net and the host of The Resistance Broadcast podcast
"For my ally is the Force, and a powerful ally it is."
Click HERE to check out and comment on this topic in our forum The Cantina