The Resistance Broadcast – Something Something Star Wars Standalone Films
In this episode we discuss the news Collider broke that claims Lucasfilm has halted production on the yet-to-be announced Obi Wan Kenobi and Boba Fett projects. We speculate what this all might mean for the future of the franchise and non-saga films.
We RUNDOWN several other news items like Jon Favreau possibly filming his live action series at the end of this year, and we answer your questions in #AskTheResistance, including whether we'll return to core worlds in Episode IX!
Something Something Star Wars Standalone Films
On this transmission of The Resistance Broadcast: John Hoey, James Baney, and Lacey Gilleran!
Make sure you are subscribed to our YouTube channel as we will be unveiling a new aspect of how you can view the podcast segments soon!
Be sure to subscribe to our YouTube channel or follow us on Soundcloud so you are alerted when new episodes post! If these formats aren't your thing, subscribe to us here on iTunes!
ASK THE RESISTANCE!
Did your question make it on the show? If so, great! If not, be sure to ask us your question for next time! If you would like to submit questions for the show you can tweet at us on our Twitter account @RBatSWNN, message us on the Cantina Forum in the questions and comments thread, or send an email to resistancebroadcast@gmail.com. Your support and comments are highly appreciated and you always make the show more fun! If messaging us on Twitter, make sure to include #AskTheResistance so we can access your questions directly every week.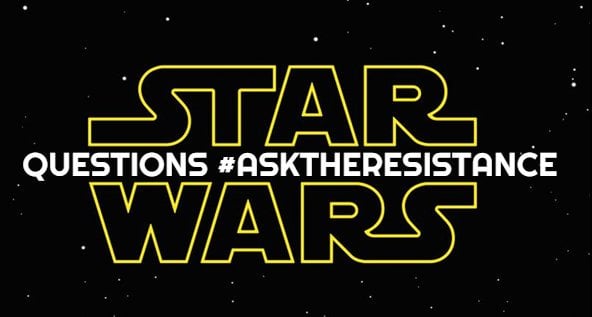 The Resistance Broadcast Gear!
The only way to support our ability to give you two free weekly episodes is by buying some of our awesome designs on a shirt, coffee mug, tank top, sticker, hoodie, pillow, anything! Simply go to our Resistance Broadcast store on TeePublic – check out our 25+ different design and pick what you like. For example, our Triple Solo vintage design with Han Solo rocking headphones! Thanks for the support!
Special thanks to Matt Pasterick for our theme song!