New Book Series Coming This Fall Starring The Fastest Hunk of Junk in the Galaxy
The official Star Wars website just announced a brand new book series coming out just in time for Star Wars Reads this October. The new series will be aimed at readers age 8-12, but Star Wars readers of all ages will no doubt jump at the opportunity to hop in the cockpit of the most famous ship in the galaxy in "Flight of the Falcon" – a series from Lucasfilm Publishing that will help connect different eras of Star Wars storytelling through the many adventures aboard the beloved ship.
(source: StarWars.com):
Each title will include a map to trace the literal flight path of the Falcon and help readers understand the time and place where each story is set. Readers will spend time with Lando and his droid L3-37, spy Bazine Netal, smuggler Hondo Ohnaka, the Skywalker twins, and more.
The series will launch with a book by New York Times bestselling author Justina Ireland with illustrations by artist Annie Wu titled Star Wars: Lando's Luck and will continue with many other stories such as A Luke and Leia Adventure, written by Cavan Scott with art by Elsa Charretier and Star Wars: Pirate's Price, written by Lou Anders with art by Annie Wu, where Han and Chewie will be teaming up with Hondo.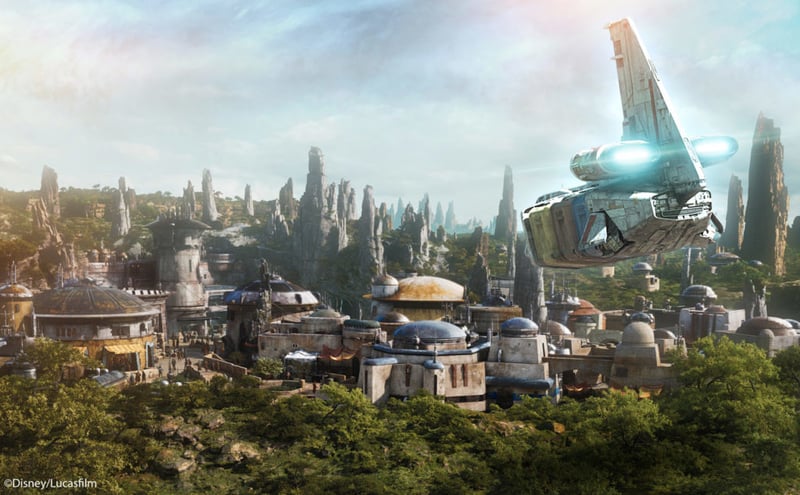 The series will also introduce fans to the world of Batuu, the planet that patrons will get the opportunity to visit when Disney World's Star Wars: Galaxy's Edge theme park opens in 2019. We'll keep you updated on these upcoming titles as we find out more!
Jordan Pate is Co-Lead Editor and Senior Writer for Star Wars News Net, of which he is also a member of the book and comic review team. He loves all things Star Wars, but when he's not spending time in the galaxy far far away, he might be found in our own galaxy hanging out in Gotham City or at 1407 Graymalkin Lane, Salem Center, NY.