Solo: A Star Wars Story – New Details On Enfys Nest Revealed, Including Exclusive Rumors About The Character
New, officially-released details on Solo: A Star Wars Story villain Enfys Nest have surfaced! Plus, we have a few rumors to break based on what we've heard about the character…
Enfys Nest will be following in the footsteps of Captain Phasma as it appears we can add another female to the list of Star Wars movie villains. We were provided this information yesterday and we have been reaching out to sources to confirm it, but here is the information from our initial source on this:
"Enfys Nest is a female. It is not a big role, but it is important. She (the actress) worked closely with Woody Harrelson. She is signed for two more movies, presumably Solo sequels."
(We've been hearing the potential for Solo sequels even during the filming with Lord and Miller, in case the movie turns out successful and popular. This was before they were dismissed and replaced by Ron Howard. Still, this could explain the extended contract option for the role.)
It appears this info we were given may very well be correct, as a portion of this has just been confirmed through French merchandise for the movie:
And this confirms Enfys Nest is a female character! #SoloAStarWarsStory pic.twitter.com/x1v4KM4vIo

— Thomas Storaï (@ThomasStorai) April 6, 2018
This translates to: "Enfys Nest, an extremely dangerous marauder, has quickly forged an infamous reputation for herself and her gang of pirates – the Cloud Riders."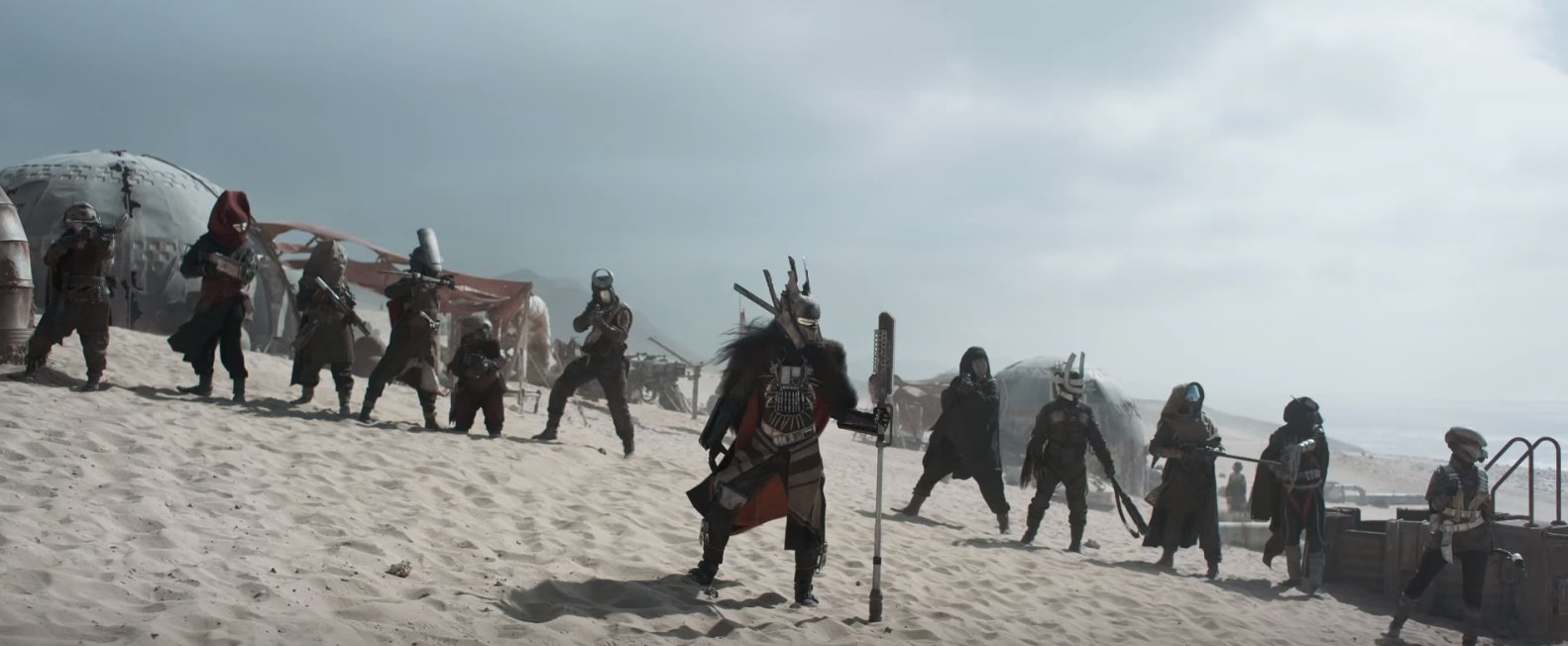 Rumors are starting to swirl that Nest will be played by actress Lily Newmark (listed on Solo: A Star Wars Story' s IMDB page), but we are hearing it is another actress not currently listed on that page.
Perhaps most important is Nest's role in the story. Despite her imposing appearance, we have heard that she is not the central antagonist of the film. Instead, she's only the villain for part of the movie, much like how Jabba's only the bad guy of Return of the Jedi for the first thirty minutes or so. But, like Jabba, she's important for her portion of the film. From the looks of things, all of her scenes take place on the same planet – one part of which has a warm, beach/desert climate, and the other which has a lot of snowy mountains. (Note that Woody Harrelson's Tobias Beckett appears to be wearing the same outfit in the trailer scene recruiting Han as when he's on the railway facing off with Enfys Nest.)
We should clarify, that none of this information has been confirmed by Disney or Lucasfilm, but we'll keep you updated as more light is shed on this! I'm incredibly excited to see and hear more about this character and becoming more interested in Solo: A Star Wars Story by the day, and we'll see it all unfold seven weeks from today when Solo opens in theaters.
Grant has been a fan of Star Wars for as long as he can remember, having seen every movie on the big screen. When he's not hard at work with his college studies, he keeps himself busy by reporting on all kinds of Star Wars news for SWNN and general movie news on the sister site, Movie News Net. He served as a frequent commentator on SWNN's The Resistance Broadcast.