UPDATE: RUMOR: The Last Jedi 4K Blu-ray Collectible Steelbook Revealed to Include Over TWO Hours of Bonus Footage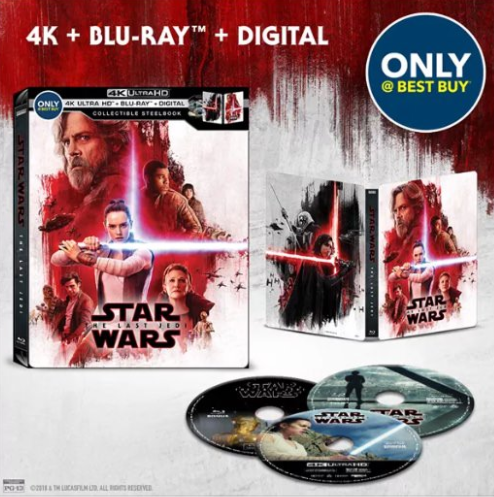 A leaked promo image of Star Wars: The Last Jedi's Blu-ray Collectible Steelbook packaging via both Best Buy and Target appears to have leaked online. There is no way to confirm if this is real but it looks accurate.
Once again this has not been confirmed but if this is fabricated, whomever put this together put more passion and time into it than we'd likely see in the real ads. Take it with a grain of Crait salt though, as good as this looks.
The post says:
"Includes over two hours of bonus footage, including deleted scenes & more."
We checked with Best Buy's site which does have a pre-order page (here) set up for a Blu-ray Steelbook of The Last Jedi, using the film's poster official theatrical poster as a placeholder.
There is no release date attached to the image, however as previously reported a rumored home video release date of March 27th has been floating around, first discovered on The Digital Habits.
UPDATE!
Included in the post is an image of Target's exclusive package, which includes a gallery book of the movie. We checked with Target and there is a description confirming this book on their pre-sale page:
"40-page booklet includes an inside, behind-the-scenes look at the making of Star Wars: The Last Jedi with exclusive images, facts and personal insights from the filmmakers."
SOURCE: REDDIT