Daisy Ridley Talks About the Scene She Filmed for the Ending of The Last Jedi!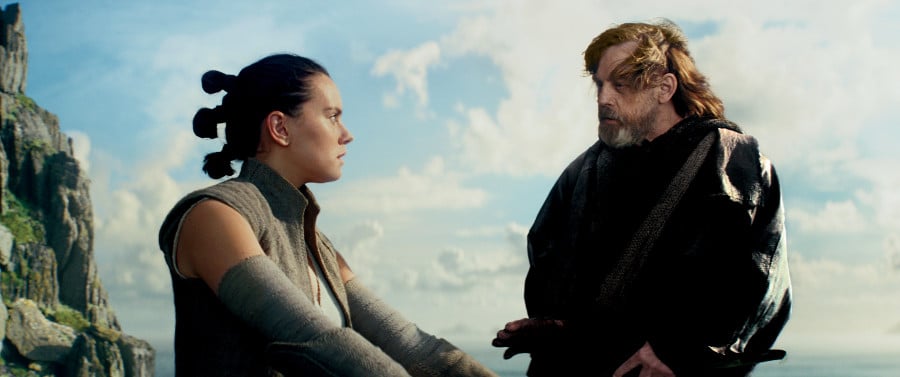 As December 15th draws closer, and the release of Star Wars: The Last Jedi is imminent, fans across the world are becoming more exciting as the days go by.
One lingering truth that is still very hard to accept is that this will be the last time we see Carrie Fisher as the beloved Leia Organa. In a recent interview with Glamour, Daisy Ridley spoke about her time working with Fisher, and surprisingly revealed some details about the final scene she filmed for The Last Jedi.
SPOILERS!!!
From Glamour:
Glamour: What an unbelievable loss. [Fisher died in December 2016, three months after The Last Jedi wrapped.] What can fans expect from her final scenes as Princess Leia?

Daisy Ridley: The last thing Carrie and I filmed together was emotional for a variety of reasons. It's the end of the film, and all of this crazy stuff has happened. There's this moment that we share, and thinking about it now, I realize that it's going to be really hard to watch. Because it will seem like a goodbye, even though it wasn't at the time. You know, she and I went through a similar thing at different times [as Star Wars heroes]. She had the most insane life.
Ridley reveals that the last scene she and Carrie filmed together occurs at the end of the movie, and is emotional for several reasons in the wake of the events that have transpired. This reminds us of the end of The Force Awakens a bit, where we saw Rey and Leia, who have (as far as we know) never met before, embrace in a hug before ever speaking a word. There is clearly a connection between the two, but what? Perhaps more light will be shined on those answers by the end of The Last Jedi? The last time the two embraced in an emotional final scene was after the death of Han Solo, so we can only hope that this isn't becoming a tradition, and the two aren't having an emotional moment over the loss of another legendary loved character.
Regardless of the story element, these moments filming with Carrie, while surely amazing experiences at the time, carry way more meaning in retrospect for the likes of Ridley, Boyega, Isaac, Hamill, and the rest of The Last Jedi cast.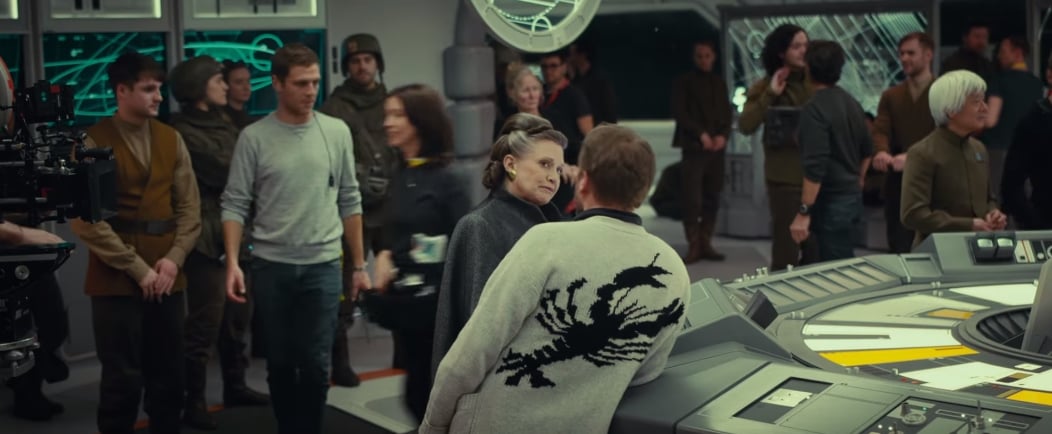 As we have mentioned in previous pieces, although it seemed like her death may have affected Leia's role in the film, with fans becoming worried at the possibility of Leia being killed off, director Rian Johnson ensured fans that although Carrie Fisher passed away, her role in the film wasn't changed to reflect this. He was quoted saying:
We didn't end up changing a thing. Luckily, we had a totally complete performance from her. It's a sad reality…In terms of going forward, time will tell what ends up getting done.
Seeing Carrie in a Star Wars film for the last time is going to be difficult, but her legacy will live on forever, and her farewell will be a magical moment that will go down in movie history.
Special thanks to Reddit member soulxluos2 who noticed this quote from Glamour. For some reason the article is no longer online. This quote was taken from the cached version of the site which is also now gone. Not sure if the removal of the article was intentional or not, but we've seen a scan with it and it really exists.
You can check my site liambaileyjournalism.wordpress.com for more Star Wars interviews, character profiles and regular franchise news!