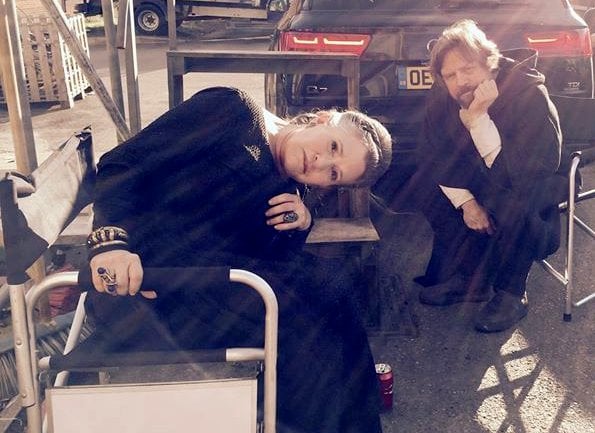 The tributes, anecdotes, and condolences continue to pour in as the days pass since Carrie Fisher's passing. Celebrities, old friends, and even some of her new costars praise her wisdom and wit. Amidst the tragedy, there's a bit of comfort to be found in the manner of these tributes. As opposed to pure sadness, people make jokes, praise her temperament, and applaud her endless creativity.
It also seems nice that Carrie's last role on screen will be the one that defined her career. Carrie has been open through good and bad about her relationship with Princess Leia. It thrust her to stardom and it will be the last line on her acting resume. I like to think Carrie would have found that appropriate.
To that end, Oscar Isaac's tribute to Carrie, through an image he shared on his Facebook page, seems especially meaningful to Star Wars fans. Carrie and Mark. Leia and Luke. Together again, in costume, on the set of her last film. We won't know until next December whether Luke and Leia will share one last scene together. But with this picture, one can take more solace in the fact that Carrie and Mark did get one last reunion.
In the last few days thousands of fans payed tribute to Carrie by raising a lightsaber in her memory. There are many videos on Youtube showing fans on the streets honoring the actress. Here's just one example (via RollingStone):
IMDb compiled a fantastic gallery with more than 60 photos of Carrie Fisher throughout here career. You can check them out HERE.
Also the site BrainyQuote made a compilation with some really memorable quotes by Carrie. Make sure the check them out HERE. Here's just a small glimpse at some of them:
And here are a few videos with Carrie, showing why she was such a great and witty person. These are her speeches presenting the Life Achievement Awards to Harrison Ford, George Lucas and the SAG Award to her mother Debbie Reynolds:
And in case you missed it, here's the deleted scene with General Leia from The Force Awakens that greatly mixes the character Leia with the person Carrie:
And we really wanted to finish this article with this touching photo:
Carrie Fisher watches her mom, Debbie Reynolds, on stage at the riviera hotel in las vegas (1963). Rest in peace to both of them pic.twitter.com/152hmac92X

— History In Pictures (@HistoryInPix) December 29, 2016
We will never forget you.
Click HERE to check out and comment on this topic in our forum The Cantina