Star Wars: Rebels Season 3 "The Holocrons Of Fate" Review!
After the solid outing from last weeks season premiere, Rebels follows up with a smaller scale episode. Now, that doesn't mean that a lot doesn't happen either. What this episodes lacks in pure raw action…it makes up for it in planting MAJOR story threads that are sure to be picked up on later in the season. (Or…even other mediums? I'll get into that later.)
So how does this episode stack up to previous episodes before it? Let's find out!!!!!!
SPOILERS BELOW!!!!!!!!!
What worked for me:
– Maul (or Darth Maul. I thought the show creators dropped the "Darth" title, but Ezra calls him that in this episode. *sigh*)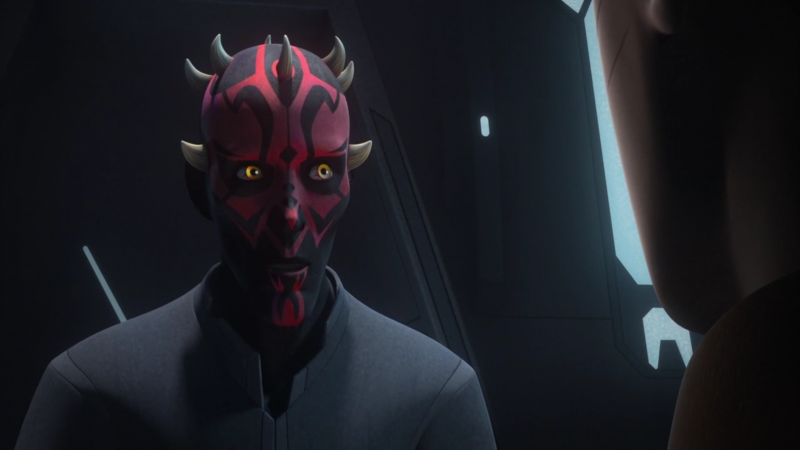 Years ago, this character was a footnote in the greater Star Wars Saga. Enter the Clone Wars and Rebels and now (Darth) Maul has become something more. Maul doesn't skip a beat from "Twilight of the apprentice" by wanting Holocrons, capturing the Ghost, almost killing Kanan and finding out something gigantic for himself. Seems to me that whenever Maul shows up…it probably means something very substantial is going to happen. He pushes Ezra's character development forward while handling the crew of the Ghost without difficulty. He's such a perfect character for this show by putting Ezra in the middle of him and Kanan and this episode only furthers that point. I have to add as well that Sam Witwer's voice performance is incredible as always.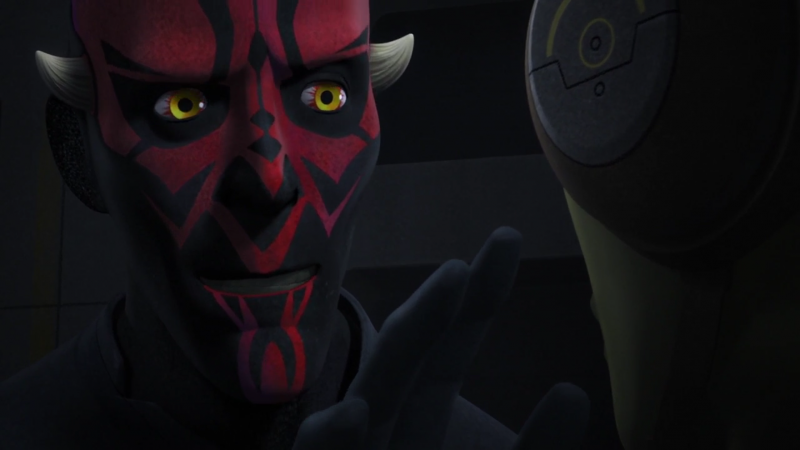 Maul also does a Kylo Ren like mind probe on Hera and anything that emulates Kylo Ren in any way is fine by me.
– The Bendu returns!
…ALREADY! For the most part, I stay away from spoilers. I had no idea that Bendu was returning in this episode and I was both surprised and happy he returned so soon. Karan and Ezra go looking for the Sith Holocron that Kanan gave him in the season premiere which is….peculiar the show went back to that story thread so fast, but I'm not complaining either. I LOVE the Bendu. What exactly his purpose is for this season still is a mystery, but he seems to have taken a liking to Kanan. What he does confirm in this episode is that when you combine two Holocrons together, it could unlock Force knowledge which could be devastating. I don't know what to make of his true motive yet, but I think Bendu leans more toward the light than the dark…at this point anyway.
– The merging of the Holocrons
For those who don't know…Holocrons were originally an EU / Legends creation from the comic pages of Dark Empire. George Lucas would later end up using this story device in The Clone Wars series. What was hard to figure out was what exactly makes the Holcrons tick? This episode seems to imply that they are in fact…Force powered? Considering what happens when a Sith and Jedi Holocron are put together, I would think so. Anything diving deeper into Force mythology is a win for me and this episode delivers it.
What Maul says while looking into the light of the Holocrons is "I SEE HIM!!!" and later when he runs off "He…LIVES!!!". I think we can all guess what Maul means when he says that….OBI-WAN KENOBI! What does that mean though? Is old Ben going to be making an appearance this season? Does this mean that this story thread could be followed up in OTHER mediums? Comic? Novel? FILM?!?!?!? My money is on Kenobi showing up in Rebels, but I wouldn't be opposed to the other options either.
What didn't work for me:
– uh…I got nothing. I really liked this episode.
Quick hitters:
– Maul's ship, which probably came from when he ruled the planet for 15 minutes and requested a sweet custom paint job.
– Love the moment of Kanan telling Ezra that his blindness is not Ezra's fault and Ezra finally accepting that.
After the premiere and "The Holocrons of Fate"…I think this season is headed down a stronger path than season 2. The antagonists introduced already seem better equipped to handle the long haul of 20+ episodes. I can't wait to see Thrawn again and what the show does with him. Same goes for Maul as well, but that's obvious.
As always I look forward to reading all of your reactions and thoughts on the episode.
PS: I will now know forever that Kitster was the one who said "Wizard" thanks to you all in the comments section from the last review.
Paul
Follow me on Twitter @Hermann22
Follow my Star Wars podcast on Twitter @Blastercanonpod