Sam Witwer Talks Darth Maul in Star Wars Rebels Season 3.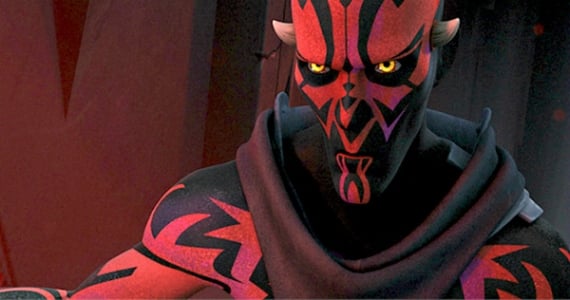 Maul ("Darth" emeritus) made an unexpected return in the Season 2 finale of Star Wars Rebels. IGN has just uploaded a new interview with his voice actor (Sam Witwer) discussing what his role in Season 3 will entail, along with his view on whether or not Maul could survive a fight with either of the two surviving Sith Lords.
Witwer's view that Ezra places a degree of trust in Maul due to his status as the only completely-trained Force user that he's currently in contact with is an interesting take on the dynamic of master and apprentice, and that Maul blinding Kanan was directly done as a way to sow discord between him and Ezra. Maul's "sneaky" approach is also justified due to his ultimate failure to impact the outcome of the Clone Wars, as is his evolution as a character in response to what he's been through. Maul would obviously be no match for Darth Sidious, but it seems as though Witwer danced around whether or not Maul could take on Darth Vader. All interesting things to consider as we wait for the show to return in the Autumn.
Grant has been a fan of Star Wars for as long as he can remember, having seen every movie on the big screen. When he's not hard at work with his college studies, he keeps himself busy by reporting on all kinds of Star Wars news for SWNN and general movie news on the sister site, Movie News Net. He served as a frequent commentator on SWNN's The Resistance Broadcast.