Star Wars Rebels Season 3: "Steps Into Shadow" Review!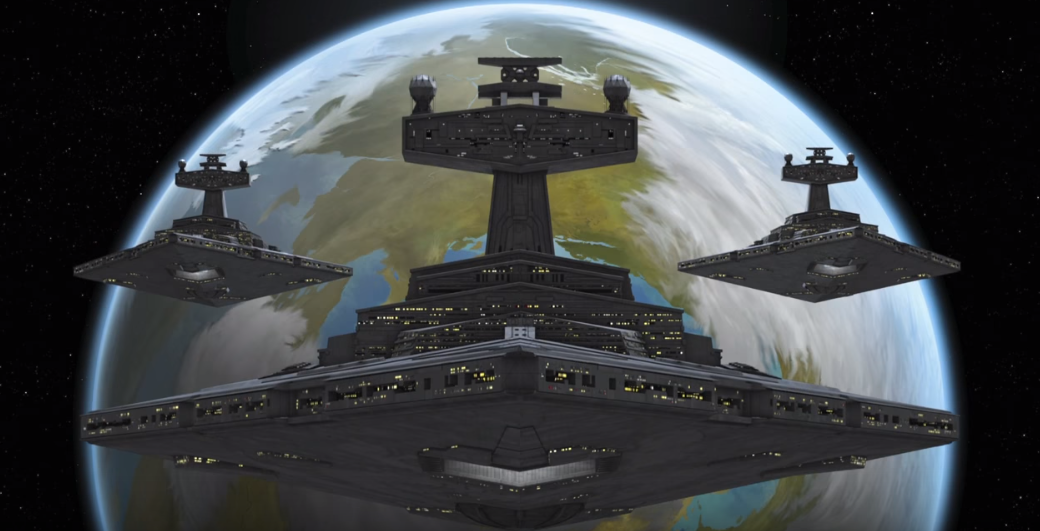 In December of this year the first non-Saga live-action Star Wars film will be released in the form of Rogue One: A Star Wars Story and early buzz predicted it to be the highlight of Celebration Europe, and if not that, then surely the Future Filmmakers panel featuring writers, directors and actors from the Star Wars films of our future like the still untitled Star Wars Episode VIII and the also untitled Han Solo: A Star Wars Story. But none of those things made as big an impact as the panel, trailer and first two episodes of Disney XD's Star Wars Rebels.
Fortunately, I was able to attend this year's Celebration and I was doubly fortunate enough to be in attendance of the Rebels panel so now I am going to break down and review for you the first two episodes of season 3. Fair warning, I will write precursor paragraph summarizing my thoughts and feelings of the episode which will remain spoiler-free for those that want to view it with fresh eyes when it airs later this year. I'll provide a spoiler warning below that and dive right into the nitty and the gritty for those that just want all the juicy details.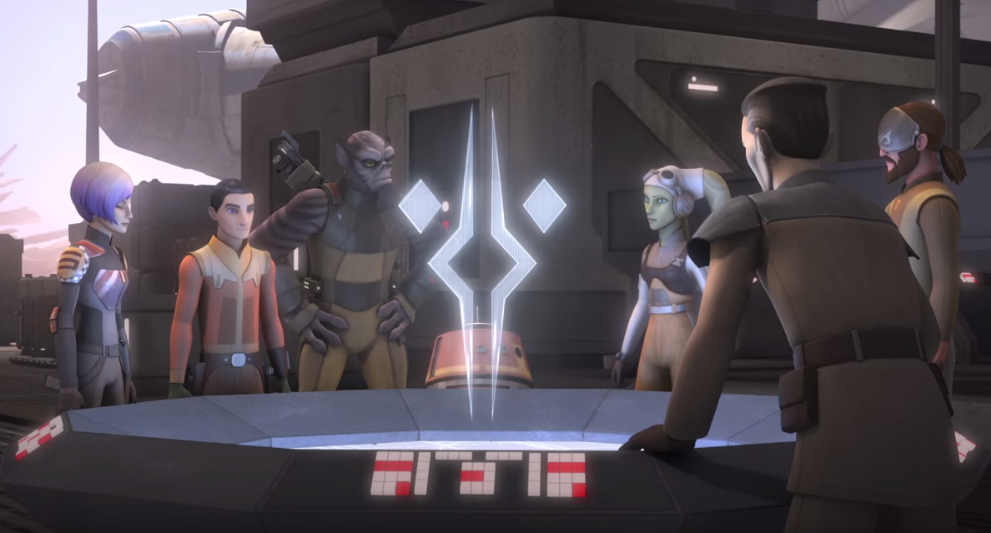 So without further ado; the spoiler-free summary. It's great. The team is back together and it appears some time has passed between the incredible Season 2 finale and this season's opening double bill. Ezra has a haircut, Sabine is rocking a whole new look, Hera is looking a little more official now that her role in the growing alliance of rebels (working title) is being further cemented, Zeb is wearing… less actually, apparently he grew tired of sleeves, Chopper is the same ol' loveable Astromech while Kanan is adjusting to his blindness with a fancy new face mask.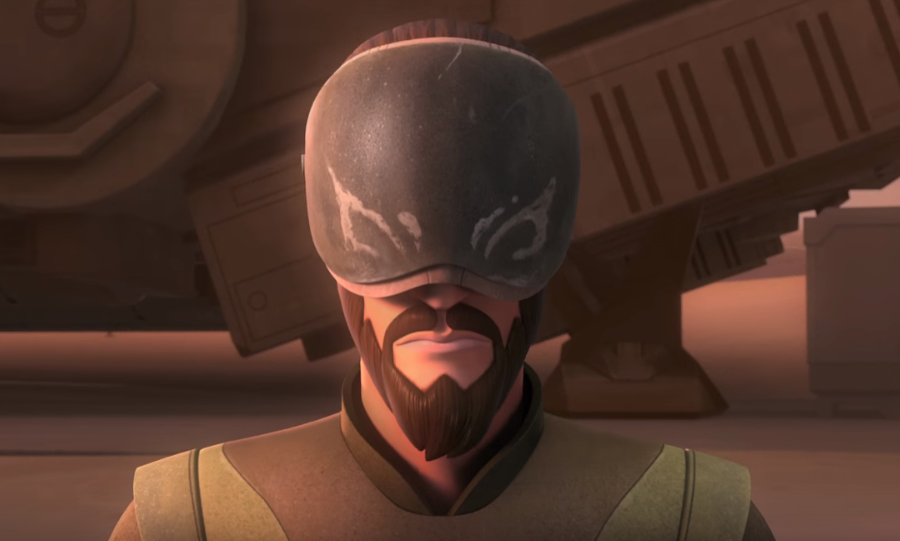 Appearances aren't the only thing that has changed, the events of Twilight of the Apprentice have clearly had an effect on both Kanan and Ezra and no time is wasted in addressing this in the opening episode. While the characters have grown, the setting is still much the same, and not in a bad way. The team are still working toward thwarting the evil and oppressive Empire, and the adventure that ensues feels just like another day in the office for our rag-tag team. With the introduction of a powerful and sinister new (but sort of old) villain, Grand Admiral Thrawn, this season is set up to potentially be the best yet.
Ok, so as promised, spoilers will commence as of now, so if you want the secrets of Steps Into Shadow to remain… secret, then look no further. You have been warned!
Still with us? Great! The nitty-gritty as promised:
We start the episode with Zeb, Sabine and Ezra on a mission to safely rescue someone with valuable information for the Rebels- and also an old friend of young Ezra, the Weequay pirate Hondo Ohnaka. Though as per usual in the Star Wars Universe, things don't go quite to plan when Hondo mentions that his incarcerated friend would need to join their escape as he too has information the Rebels desperately require. So they improvise! Ezra displays some of his new talents- and I must say, he is very, very talented. He's clearly learned a lot in the off-season and it doesn't seem to be anything Kanan has taught him. Unless taking control of a Stormtrooper's mind, making him shoot two other Stormtroopers and then finally walk off of a ledge was a Jedi lesson that I missed.
It is revealed early on that Ezra has been using the Sith Holocron he acquired last season and a voice known only as 'Presence' is offering advice that seems to be sending Ezra down a dark and dangerous path that a small number of Jedi have walked in the past, not many of them returning. The voice of Presence last season was Nika Futterman who also lent her vocal talents to Clone Wars for Asajj Ventress so once again whispers about the Celebration Stage were heard; "was that Ventress?", "sounds like Asajj", "oh my god, was that who I think it was". We all know how much Filoni loves the wonderful cast he assembled for The Clone Wars and will do whatever he can to bring some of them back, whether it's in the same roles or new ones remains to be seen. It doesn't take long for Kanan to discover Ezra's new teacher and he takes the holocron away. It might have been interesting to show more of Ezra learning from the holocron but alas apparently it wasn't meant to be.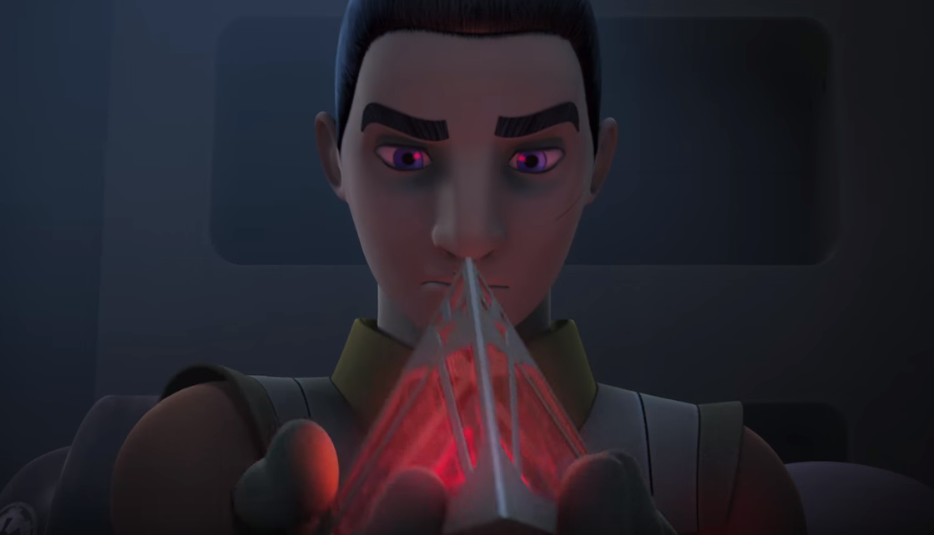 Much of the footage from the Rebels Season 3 Trailer is actually from this first episode and I suppose the elephant in the room is the Grand Admiral himself, Thrawn. He is finally introduced into the Canon and is no longer just the greatest relic of Legends. Desperate times for the Empire call for desperate measures and one of the greatest minds in the galaxy is how they raise the stakes. For those that are familiar with the Grand Admiral from the Timothy Zahn novels known as 'The Thrawn Trilogy', he was initially introduced as the successor to the Emperor after the destruction of the second Death Star II over the forest moon of Endor, which for many was the definitive sequel to Return of the Jedi right up until the Disney acquisition in 2012. It was his sole purpose to wipe out the Rebellion and despite at first being outnumbered, he was able to change the face of the war by being smarter than his enemy and not having an ego like his former allies. He knew when to retreat and he knew how to fight everyone thanks to his in-depth study of every race's history, art and culture. If you have a weakness, you can count on the fact that Thrawn knows about it and is already exploiting it.
So now we are introduced to him a little earlier in the Star Wars timeline, he is now faced with an unformed enemy and he is part of a fully formed Empire so it would seem our protagonists stand no chance. He doesn't have a great deal to do in this opening episode but rest assured Lars Mikkelsen's portrayal is perfect. He seems to really grasp the character's thoughtful and unpredictable nature. He is calculated and you never know what he'll do next because, quite frankly, he's smarter than you.
We are also introduced to a new character voiced by Tom Baker. The Sith holocron taken from Ezra seems to stir something in this strange being and wake him from a deep slumber. This individual is force sensitive and further explores the idea that force users don't need to be a Jedi or a Sith but can sometimes reside somewhere else. The middle. The Bendu, as he refers to himself. This mysterious character is introduced to teach Kanan about sight and how things don't have to be seen with his eyes (because that ship has sailed) but with the force. It's a fairly simple concept and seems to go fairly quickly so I hope this isn't the last we see of The Bendu.
Thanks to the rescue of Hondo under Ezra's command, he is given a promotion and a mission, to scout out the location of some newly discovered Y-Wings, a resource that is desperately needed by the rebels. Following Ezra on this mission is Zeb and Sabine who are this time joined by Rex, everyone's favourite retired clone. Once the team learn that the Y-Wings are being destroyed Ezra decides to improvise and acquire the ships there and then even though they are unprepared. With a little luck and a little assistance from the rebel fleet at large the team barely make out alive and Ezra once again shows traits of darkness.
As I'm sure you can tell, a lot happens in this opening episode. At times it does feel a little disjointed and rushed but ultimately it means they simply need to get a lot out of the way early so that we're in a place to tell a bigger and better story for the rest of the season. Pacing aside, it is a fun episode, filled with everything I love about Rebels. The cast is at its best, fitting back into their roles as if no time has passed and the animation is as exciting as ever. If Steps Into Shadow is anything to go on, the upcoming season is set to be the darkest and most exhilarating to date. Plus, anything with Thrawn being officially brought into canon in such a positive and faithful way is going to come highly recommended from me. I hope you enjoy these episodes as much as I did and I hope you're looking forward to this season as much as I am because it looks like it's going to be nothing short of breathtaking.