Is Dubrovnik the "Exotic City" from The Force Awakens Concept Art?
Ever since fans caught their first glimpse of Dubrovnik and the production photos for Episode VIII, speculation began to circulate about the beautiful Mediterranean city.  From familiar planets like Naboo to a brand new never-before-seen location, theories have abounded surrounding the Croatian maritime town.
One of those theories connects the new location with early concept art for a location that would ultimately become Takodana in The Force Awakens.  Hit the jump to see some concept images of "Exotic City" and decide for yourself if it is indeed the inspiration behind the Dubrovnik location.
Before there was Takodana, there was "Exotic City", the location where the new heroes of The Force Awakens would come into contact with Han Solo before making their way to Princess Leia's castle.  The design of the city, as pushed by production designer Rick Carter, was originally supposed to have a Casablanca feel, but it later evolved into a more simple design that was inspired largely by a painting from famed Star Wars concept artist Ralph McQuarrie.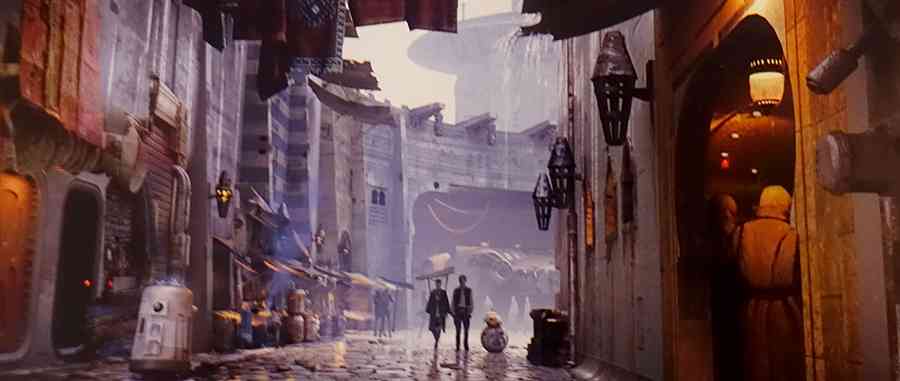 The location was eventually blended with the castle concepts and took on a whole new look for The Force Awakens, but from looking at the original concept photos, one can easily see a lot of similarities between the "Exotic City" concepts and the Dubrovnik location and set photos from Episode VIII (here, here, and here).
You can definitely see some similarities in the rounded doors and the panels next to them. Also some of the lighting bodies seen in the art are very similar to the lamps on Dubrovnik's main street. And the comparison in the title image really speaks for itself.
Using this unused concept art from TFA for what is most likely a brand new location in Episode VIII makes perfect sense. Productions do this all the time, and it would have been a great loss to trash these great designs and not use them.
Special thanks to Cantina member Lego Han for the images with the art of "Exotic City".
Also it appears that our friends from Star Wars Post have a similar article, that you can check out HERE.
Jordan Pate is Co-Lead Editor and Senior Writer for Star Wars News Net, of which he is also a member of the book and comic review team. He loves all things Star Wars, but when he's not spending time in the galaxy far far away, he might be found in our own galaxy hanging out in Gotham City or at 1407 Graymalkin Lane, Salem Center, NY.