Star Wars Episode VIII: Who's Returning After The Force Awakens.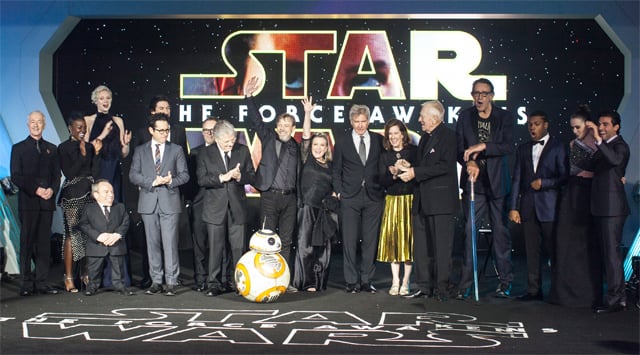 Some of the cast of Star Wars Episode VII: The Force Awakens have been confirmed to return for the sequel prior to the release of the movie, including Daisy Ridley and Mark Hamill. Lucasfilm President Kathleen Kennedy recently made a statement at the London premiere of the film explaining exactly who was going to return.
Spoilers for TFA are inside!
So, who's returning, according to Kathleen Kennedy? Everyone. Yes, really: EV-ERY-ONE!
From Daily Mail:
Just as the highly anticipated sci-fi sequel is hitting cinemas, movie producer Kathleen Kennedy has confirmed the next instalment starts shooting in January. The Lucasfilm President, who famously produced E.T. the Extra-Terrestrial and the Jurassic Park franchise, revealed the acclaimed cast of young and old stars such as John Boyega, Daisy Ridley and Anthony Daniels will be back. Speaking exclusively to BANG Showbiz at the European premiere of Star Wars: The Force Awakens in London's Leicester Square on Wednesday night, she said: "There will be a handful of new cast members in Episode VIII, but also all the cast members you see here tonight will be in it as well."
The cast members in question include Daisy Ridley, John Boyega, Oscar Isaac, Lupita Nyong'o, Adam Driver, Domhnall Gleeson, Gwendoline Christie, Andy Serkis, Max Von Sydow, Mark Hamill, Carrie Fisher, Harrison Ford, Anthony Daniels, Peter Mayhew, Kenny Baker, and Warwick Davis. So for those of you who have seen the movie, you'll know that a couple of questions are quickly raised from this statement – especially considering the uncertain statuses of key characters. (This is where the spoilers kick in, so turn back if you haven't seen the movie!)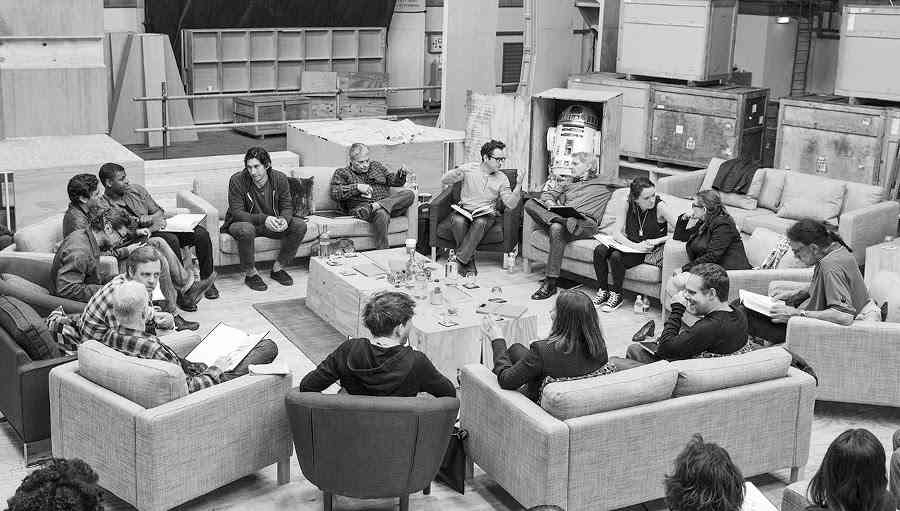 As you know, both Lor San Tekka and Han Solo both meet their ends at the hands of Kylo Ren. So how can they appear in Episode VIII if they're both dead? There's a simple explanation to this, and it's that the movie will have flashbacks in it. It wouldn't be surprising considering that the movie already toyed with them when Rey first obtains Luke's old lightsaber. Word has it that the sequence was supposed to be more elaborate in nature and have an explicit narrative as opposed to a series of esoteric visions. It's possible that J. J. Abrams felt that the scene gave too much away too early and cut the scene, but it's also possible that the narrative may be saved for Episode VIII. Lor San Tekka's few lines seemed to establish that he knew Luke Skywalker and Kylo Ren way back when, so his role would be easy enough to integrate into the story, but seeing how Han would play into a flashback would be more interesting. (Those who were bummed out that the "Big Three" didn't get a scene together in The Force Awakens might just be appeased if it happened through this kind of a plot device.)
Also of interest is confirmation of the presences of Maz, Kylo Ren, General Hux, and Captain Phasma returning. Maz kind of disappeared after giving Finn the lightsaber (the second teaser showed Maz handing the lightsaber over to Leia, implying that the two had a discussion on Takodana that was cut out of the film), and Ren, Hux, and Phasma were all stuck in varying positions on Starkiller Base shortly before it imploded into a star. I figured that they wouldn't kill Ren and Phasma, but Hux's strongly-implied survival came as a bit of a shock to me since he seemed like the most expendable villain. Hopefully, that means that they have something special in mind for the character. I'm interested in seeing much more of the new cast.
Stay tuned to Star Wars News Net for the latest and greatest stories about the Galaxy Far, Far Away.
Grant has been a fan of Star Wars for as long as he can remember, having seen every movie on the big screen. When he's not hard at work with his college studies, he keeps himself busy by reporting on all kinds of Star Wars news for SWNN and general movie news on the sister site, Movie News Net. He served as a frequent commentator on SWNN's The Resistance Broadcast.