Kevin Smith: Disney Recently Showed Footage from The Force Awakens to European Distributors!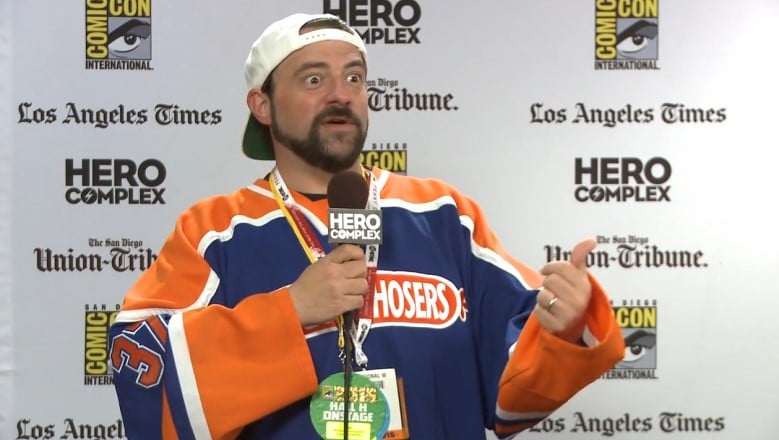 Actor/Director Kevin Smith is at Comic Con right now and didn't miss the chance to share again his experience visiting The Force Awakens set and the Millennium Falcon in particular. In an interview with Hero Complex, Smith also revealed that recently Disney showed new footage from TFA to European distributors, and that he is ready to bet $10 000 that Disney will show a new footage during their panel in Hall H later today…

First, if you missed Kevin Smith's detailed description of his The Force Awakens set visit from last Comic Con, check it out HERE.
From latimes:
In our exclusive interview with Smith about Comic-Con, the director dismissed rumors that Disney would not show new "Star Wars" footage as "shenanigans."

He then changed gears and got personal, revealing what it felt like to stand inside the Millennium Falcon. It's a great, long "Star Wars" tale. Seriously, watch this, and try not to get choked up as well.
You can watch the full video HERE.
So obviously there is a new footage being shown around. I don't know why, but many sites reported the "no new trailer" news from Entertainment Weekly as "no new footage will be shown at SDCC". That's not what EW said. They said there won't be a new trailer or clips. This doesn't mean there won't be new footage at all. I agree with Kevin and I am ready to bet that we will see new footage from TFA.
We're just 12 hours away from the panel and if the rumors we've been hearing are true, prepare to be amazed. We heard that the team will again stress on the practical side of the effects, and they will show us things from the creature shop. Also we've heard that they might show us how Daisy Ridley handles herself in a certain fight scene…