SW7N Review: Marvel's Darth Vader #5 Plus an Interesting Speculation Tying the Comics With The Force Awakens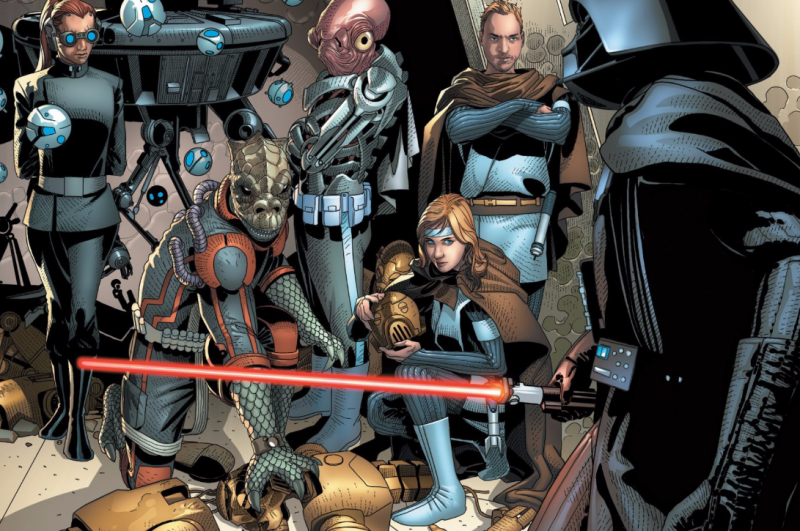 Issue five of Marvel's comic book series Darth Vader is out now. This time we are also including an interesting speculation tying this issue with The Force Awakens…
PLEASE READ: This review is going to cover spoilers not only related to the issue, but could very well be related to some huge ones as far as The Force Awakens goes. If you don't want to get into any of that, do NOT read this review. If you have been avoiding spoilers as far as the sequel trilogy goes, avoid this review. For those of you getting off the bus here, just know this is a great issue and you should read it if you have been following the series.
Last chance…..
Welcome back! I'm going to skip the small details of this issue to get right into the meat and bones. I will be careful with my hyperbole, but this issue could be a big game changer for the SW canon and could be setting up a huge plot point for The Force Awakens.
We last saw Vader and Doctor Aphra heading toward the coordinates of Vader's replacements the Emperor was said to be grooming. The facility looks like it has been constructed on some sort of giant space slug. Darth Vader may be a cold customer, but he's quick to point out the "abomination" of technology and a living being (not detecting the irony). As usual, Vader and his trusty lightsaber have little trouble making their way into the facility.
It turns out his replacements are expecting him and are anxiously awaiting their opportunity to square off against the Dark Lord. They are neither Sith nor Jedi, they are cyborgs created by a cyborg, the recently departed fourth iteration of Cylo, and we meet his fifth iteration here.
Cylo V reveals that not only has he constructed the two cyborgs Vader first engages, there is a plethora of technological creations designed to make the Force obsolete and technology the servant of the Emperor. The Emperor is always looking for an upgrade for his apprentices and technology appears to be the route he is exploring.
Vader decrees these cyborgs blasphemous and Cyclo V points out Vader should consider them his own "children". Just as Vader prepares to put a sudden end to number 5, the Emperor shows up and commands Vader to stop.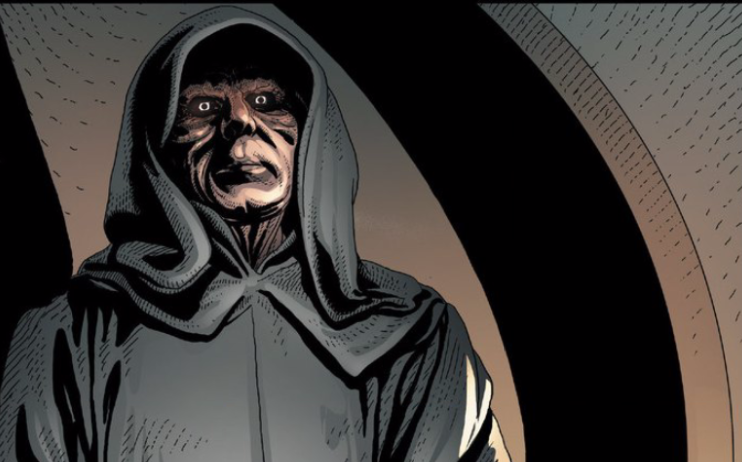 Then, Palpatine asks Cyclo V for a demonstration. Every cyborg turns toward Vader and that's where we end.
Yes, this issue is just as on par with great story and artwork as the other issues. Let's discuss the implications this may have later on in the Star Wars canon.
The Emperor has been building a secret arsenal of cyborgs designed to outdo the Force! Let's play the assumption game. Let's assume that a piece of this arsenal survives Vader's assault or may be hiding in the wings already. If this cyborg in question survives post-ROTJ, I think we may have some insight into who Kylo Ren, or his master, may be.
Hear me out. We have seen some concept art depicting a cyborg, hooded figure solemnly holding the remains of Darth Vader's mask. I know I am reaching here, but I think by the end of TFA it will be revealed that either Kylo Ren, or his master, is one of these cyborgs or related to them.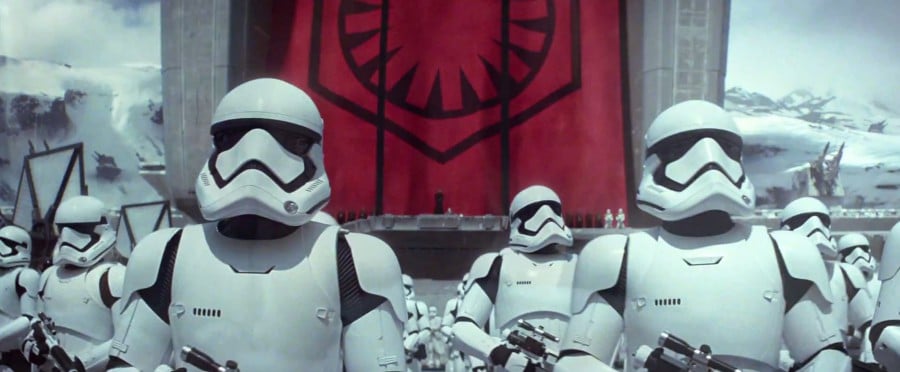 It's pretty much assumed that the First Order, what is left of the Empire in the sequel trilogy, is piecemeal of a contingency the Empreror had put in place should he ever be overthrown or killed. It makes sense that he would also have a contingeny in case Vader were killed or the one to overthrow him. Perhaps one of these cyborgs is his best kept secret and is activated post-ROTJ. There is also a tiny rumor out there that Kylo Ren could be claiming to be Darth Vader. These cyborgs are shown to have free will, so perhaps the Kylo Ren or second villain is a result of this laboratory and regards itself as a natural replacement, hence the Vader imitation.
It's also interesting how similar the outfits between Kylo Ren and the initial cyborgs are. Most notably the belt, placement of the hood and cape, and the fabric looks close. If the cyborgs clothing were black they would be almost identical.
I invite you all to speculate away. What I have put into my speculation is my OPINION alone. Simply saying, I'm not looking to start any heated arguments about what site said what and who is wrong. Take a look around at what we think we know about TFA and share what you think these cyborgs may or may not have to do with it. Keep it fun, let your imagination go crazy. All I ask is that you please be respectful and don't knit pick what others might theorize.
And there is still another issue to go before the arc concludes, so keep in mind we might have answers that could negate everything I just said.
You can order a digital copy at Marvel.com or at Comixology.com, or visit the nearest comic book store.
Kyle Larson lives in Portland, Oregon. When he's not running trails, he's reading and writing.