Fans Make An Online 3-D Model Explaining How BB-8 Works.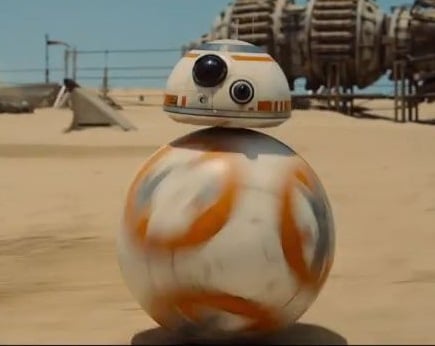 BB-8, the "soccer ball droid" seen in both teaser trailers for Star Wars Episode VII: The Force Awakens, shocked many when it was revealed that he wasn't a computer-generated creation, but a remote-controlled practical effect. Many have wondered how this technology works – and now, two fans have created a short essay (complete with visuals) explaining what goes into the little droid.
From the website, bluntly named "How BB-8 Works":
So, how does BB-8 work? What kind of black magic powers it? Well, what we know for sure is that it's not driven by a hamster as some theories suggest. The closest thing out there is the Sphero ball, and turns out that Sphero was one out ten start-ups funded by Disney's first accelerator program in 2014. Disney CEO Bob Iger himself was Sphero's mentor inside the company. When he learnt about the filmmakers trying to build a rolling droid, he knew the right people for the job.
 
BB-8 and the Sphero are likely to share a very similar internal mechanism. As a matter of fact, some DIYers have alredy customized their Sphero balls to make them look like BB-8. The RC robotic ball uses a gyroscope to determine which way is down and two wheels to move the sphere from inside. The base plate (batteries included) serves as a counterweight to keep the wheels acting against the lower half of the sphere. There's also a vertical bearing that helps to keep the wheels in contact with the walls.
 
But what about the floating head? Because that's actually the jaw-dropping part. Here's where all the pieces come together. There is a patent by Disney's Imagineering R&D group that sheds some light on the head mechanism. Surprisingly, the patent was filed in 2010, two years before Disney acquired Lucasfilm and four years before they invested in Sphero. Looks like they were into rolling droids before anyone suspected.
Going to the above link will let you learn a lot more about the technology behind the little guy, along with a well-informed theory about how the droid works from the inside. The best part about it is that it features an interactive animation that shows the exterior and interior of BB-8, which you can move around in 360 degrees across the x, y, and z axes!
I would highly recommend that anyone interested in going behind-the-scenes of any Star Wars movie take a look at the site, and I can't wait to see more footage of this droid in action. Also worth noting is that these guys sent us an e-mail saying that our article that we wrote about the patent for this technology inspired them to work on their own explanation, so kudos to my fellow SW7N staff TIDMADT and Voxx for (respectively) making the find and writing the article on it!
Grant has been a fan of Star Wars for as long as he can remember, having seen every movie on the big screen. When he's not hard at work with his college studies, he keeps himself busy by reporting on all kinds of Star Wars news for SWNN and general movie news on the sister site, Movie News Net. He served as a frequent commentator on SWNN's The Resistance Broadcast.