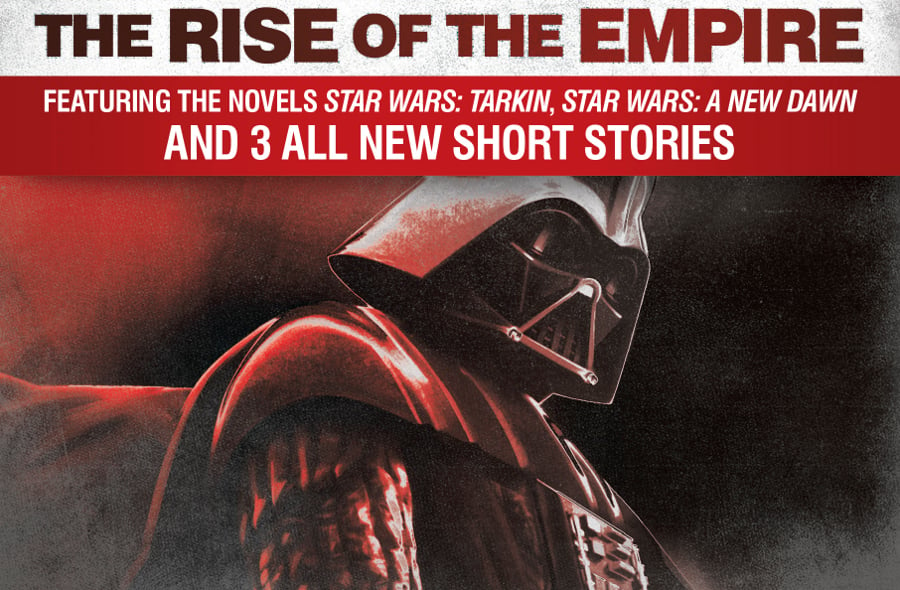 Well, if you've been holding off on reading "A New Dawn" by John Jackson Miler or "Tarkin" by James Luceno, and are not dying to read one or the other but would like to, maybe hold off a little longer.
The official Star Wars website announced Del Rey will release a bind-up publication this October entitled "Rise of the Empire". Not only will it feature these two novels, it will also include three brand-new short stories bridging the gap between the two books. The stories will be written by established science fiction writers Melissa Scott, Jason Fry, and John Jackson Miller.
In terms of first in the timeline, "Tarkin" is where the bind-up will begin. "Tarkin" covers the early days of the Empire through the eyes of one of its most ruthless and ambitions officers, Wilhuff Tarkin. This novel is a particularly special entrance into the canon, as it covers the origins of Grand Moff Tarkin while exploring his early relationship with a perceived mysterious Darth Vader. This book is a must-read for any Star Wars fan as it is scribed by James Luceno who is well versed in adding depth to existing Star Wars characters through the pages.
"A New Dawn" takes place later in the timeline, and explores what Kanan Jarus was up to before he met Hera. This novel was the first after Lucasfilm announced they were clearing the deck and resetting the canon of Star Wars literature. It's a fun yarn, but in many readers opinions, the story is not terribly consequential in the broad scope of the Star Wars Universe. Still, it's a great addition to the overall Rebels story.
The three short stories will continue the job that seem to be the common focus of all newly released canon books, comics, and "Rebels": flesh out more of how the Empire functioned in its heyday. When you think about it, we only got brief glimpses of the day-to-day on the Original Trilogy. The Empire, or whatever is left of it, will continue to play a big role in the franchise. It seems the more we learn from each novel the more we realize how little we knew and how incredibly complex it was (as well as vulnerable).
This release will happen right in the middle of the onslaught of "Journey to The Force Awakens" novels and comics. It's safe to say that those TFA-related materials should take precedence of your reading time leading up to December. This does sound like a nice collection, though, so maybe you should pack it with the reading materials you take with you to pass the hours standing in line for that midnight Episode VII showing.