UPDATE 2! More Character Details for Star Wars Rebels Revealed – SDCC 2014 Panel Confirmed! First Look at Agent Kallus, Cover Jacket for A New Dawn.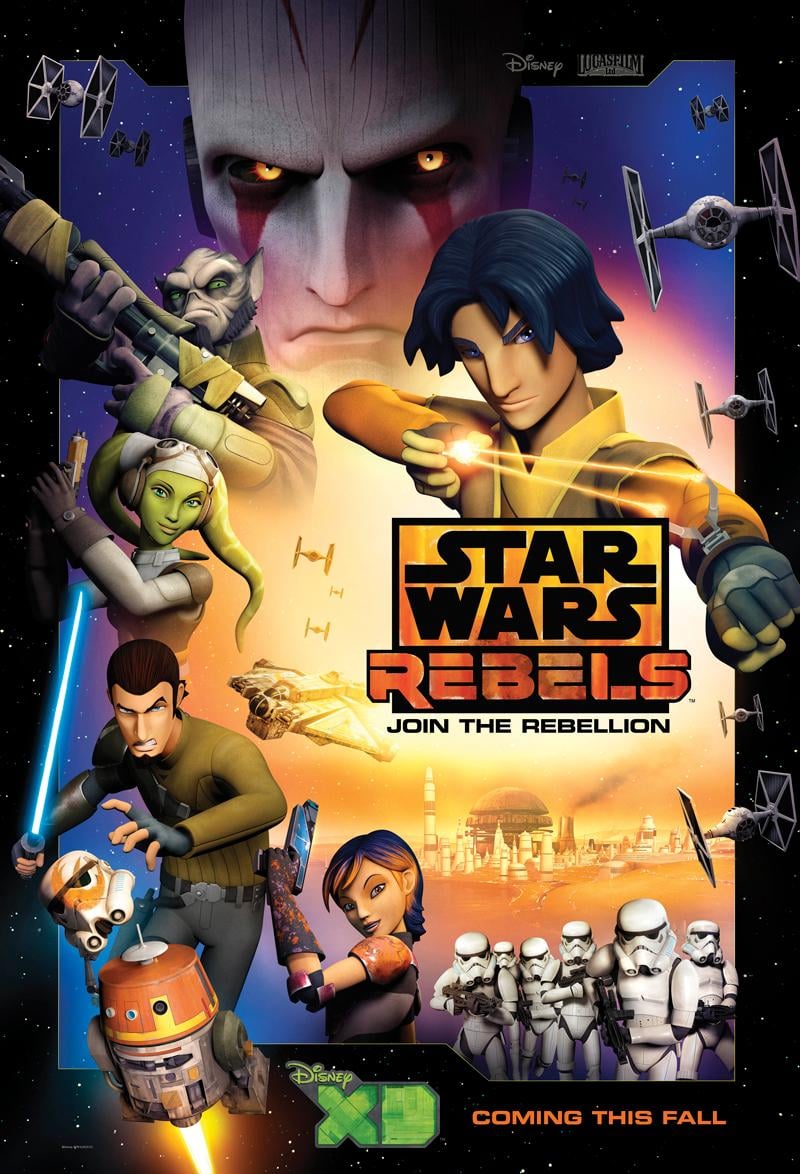 Disney is raring to get people into Star Wars Rebels with media detailing the backgrounds of the lovable anarchists, and Studio Fun International has announced two books that will do just that – the colon-free Sabine My Rebel Sketchbook, and the colon-saturated The Secret Jedi: The Adventures of Kanan Jarrus: Rebel Leader. Recently, SFI released two concise press releases explaining what these books will be about – and, more importantly, delves into details on these characters' personalities. Lucasfilm also released a short video showing off a couple details about the Astromech Droid "Chopper" C1-10P. After the jump, we'll share what SFI has to say about Sabine Wren and Kanan Jarrus (don't worry, it's all spoiler-free), display the video of Chopper, and also discuss what Disney is going to show at the San Diego Comic Con.
Firstly, let's get into the press release for Sabine Wren's book.
She's funny, creative and impulsive; an artist with spray paint and advanced weapons. She's also a 16-year-old girl who happens to be flying around the universe, wreaking havoc on the Imperial army. Now you can read the private diary of Sabine Wren, the awesome new heroine of the Star Wars Rebels television series! Wren is one of the most compelling and interesting female characters in Star Wars since Princess Leia! She's an explosives expert supreme, and a master of advanced weapons. She's also a crazy artist, gifted at graffiti and sketching. She's strong, bold, confident, cool – and only 16! Get to know Sabine through her own words and artistic expression in this replica journal filled with sketches, photos of her best work, stories, doodles and her observations of her fellow rebels. In Sabine's own writing, relive events that occur during the first 10 episodes of Star Wars Rebels, plus discover details about Sabine's life and the rebel team.
In short, it would appear that Sabine's character is meant to appeal to a wide variety of young viewers – aspiring artists, hopeful students, the "girl power" crowd, and (of course) the prized demographic of people who think that more cartoon girls should kick ass. Perhaps Lucasfilm Animation has been looking at Nickelodeon's Avatar: The Legend Of Korra as a frame of reference for that last category? It seems, in any case, that the writers of the show have their bases covered in appealing to girls and boys both with the character.
Now, let's look at the press release for Kanan Jarrus's book.
This breakthrough new book is filled with amazing insights and high-action adventures of the Jedi knight Kanan Jarrus. Plus the foldable holocron provides a gateway to carefully-guarded exclusive digital content. The holocron is a teaching device of the Jedi with access to guarded secrets! Discover the history and secrets of Kanan Jarrus, the newest Jedi to emerge in the Star Wars universe! Who was his master? How strong is the Force within him? What are his fighting skills and what type of lightsaber does he wield? This exciting storybook with exclusive links to rare online content, will reveal intriguing answers to many of these questions. Based on action and events from the first 10 episodes of Star Wars Rebels, this book features seven tales from the perspective of Kanan Jarrus, the secret Jedi. Packed with action, adventure, great reading, humor, and bold visuals, The Secret Jedi provides a wonderful glimpse into the new world of Star Wars Rebels, and the Jedi leading the rebel team. But what makes this a truly unique package is… the holocron! Packaged with each book will be a "holocron" toy that when arranged properly, reveals a secret code to a gated website that includes a wide range of bonus content linked to the book and the broader Jedi world.
Kanan's description is a little less informative, but still teases that we'll get a better background on the character by the time it hits the shelves. Nonetheless, it's great to know that the story will come with not only details on the character, but on the Jedi as a whole via the holocron feature.
Outside of the children's books, there's a bigger and more immediate opportunity to see what's going on in the new show: Comic Con. The panel – entitled "The Heroes Of Star Wars Rebels" – will feature voice talent Freddie Prinze Jr. (Kanan), Vanessa Mashall (Hera), Steve Blum (Zeb), Tiya Sircar (Sabine), and Taylor Gray (Ezra), alongside Executive Producers Dave Filoni and Simon Kinberg. It was clear that Disney was going to feature the cartoon at the expo, given that the airdate of the cartoon is rapidly approaching, and the fact that they have a panel will surely entice fans to get into the show.
Finally, the official Star Wars YouTube channel gave us a behind-the-scenes look at the our heroes' Droid, Chopper.
UPDATE 1!
Thanks to Herocomplex we have our first look at Rebel Hunter Agent Kallus:
As the fall premiere of "Star Wars Rebels" grows ever closer, we're getting more familiar with the characters created to bring us into this new era of the space saga. On the bad guy side, images of the Inquisitor has been available for a long time, but now we're getting our first look at his right-hand man, Agent Kallus, the so-called "Rebel hunter." And the actor selected to voice him, David Oyelowo. Now he's voicing the evil agent of the Empire, working for the Imperial Security Bureau. The way "Rebels" executive producer Dave Filoni describes it, it's a little like the FBI and a little like the military police.

One of the most striking things about Kallus is his impressive facial hair, two imposing sideburns that sweep down the side of his face.
"We definitely wanted to capture that '70s feeling that was so strong in 'A New Hope,'" says Filoni. "Art director Kilian Plunkett and I looked at a lot of reference to try and make that influence fit into 'Rebels.' At one point we had [Rebel pilot] Zeb in bell bottoms."

Unlike some of the more outlandish "Star Wars" looks, Kallus' mutton chops are easy to grow for potential cosplay opportunities.

"I'm hoping to see some people sporting that look at Comic-Con next year," Filoni adds.

Getting an actor of Oyelowo's stature for the series was something of a coup for the "Rebels" creative team. He may not yet be a household name, but fans have bandied his name about as perfect casting for iconic characters such as James Bond and Doctor Who.

"We actually had David read for several different parts," Filoni said. "We knew we wanted to use him, but weren't quite sure where."
UPDATE 2!
Beyond Agent Kallus, the cover jacket of A New Dawn has been unveiled by publisher Del Rey. The book summary gives us some solid details on Kanan Jarrus's background, but bear in mind that it also contains SPOILERS for the Star Wars Rebels television series, so read at your own risk.
Ever since the Jedi were marked for death and forced to flee Coruscant, Kanan Jarrus has devoted himself to staying alive rather than serving the Force. Wandering the galaxy alone, from one anonymous job to another, he avoids trouble – especially with the Empire – at all costs. So when he discovers a deadly conflict brewing between ruthless Imperial forces and desperate revolutionaries, he's not about to get caught in the crossfire. Then the brutal death of a friend at the Empire's hands forces the ex-Jedi to make a choice: bow down to fear or stand up and fight.

But Jarrus won't be fighting alone. Unlikely allies, including a bomb-throwing radical, a former Imperial surveillance agent, a vengeful security officer, and the mysterious Hera Syndulla – an agent provocateur with motives of her own – team up with Jarrus to challenge the Empire. As a crisis of apocalyptic proportions unfolds on the planet Gorse, they must stand together against one of the Emperor's most fearsome enforcers – for the sake of a world and its people.
Grant has been a fan of Star Wars for as long as he can remember, having seen every movie on the big screen. When he's not hard at work with his college studies, he keeps himself busy by reporting on all kinds of Star Wars news for SWNN and general movie news on the sister site, Movie News Net. He served as a frequent commentator on SWNN's The Resistance Broadcast.