Update! Rumor: Jason Flemyng and Alex Russell Also Auditioned for Star Wars: Episode 7?
With all the open auditions happening in the US and the UK, it's been a while since we've heard some Episode 7 casting rumors. The latest additions are 47 year old British actor Jason Flemyng and Australian actor Alex Russell…


Flemyng posted the following photo on Instagram suggesting he's been offered a part – or is in the least, auditioning – for a role in the J.J Abrams directed movie.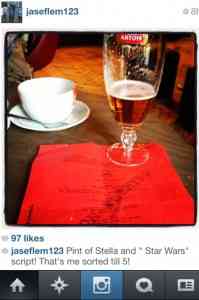 Take this with huge grain of salt. Just have in mind the image Justin Bieber posted few months ago with the Superman/Batman script. Just saying…
Also remember when Flemyng kinda "confirmed" that Matthew Vaughn is directing Episode 7: Is Matthew Vaughn Set for Episode 7?
So keep that in mind.

Also according to the same source (moviehole):

We've also got solid word that Michael B.Jordan isn't the only "Chronicle" star up for a role in the movie; Jordan's co-star, Australian actor Alex Russell, has also auditioned for the movie. One can only assume Russell, whose other credits include "Carrie" and "Wasted on the Young", is up for one of the film's new young hero parts.



As Saoirse Ronan said everyone is auditioning for Star Wars so there might be some truth in this report after all. 🙂


Update!

Some people made a good point pointing out that Flemyng's picture with the page matches the color of the supposed Episode 7 script posted by Bad Robot few months ago.