More Millennium Falcon, Cast and Plot Rumors.
Another rumor suggesting that a full scale 1:1 Millennium Falcon has been build for the upcoming Star Wars movies and attractions. Also hit the jump for some more rumored names that auditioned for Episode 7 and more…


A quick recap of the previous Falcon rumors:
According to "talkbacker":
"… the falcon will make a big appearance (in Ep.7), 1.1 scale size cross section is being constructed over at Pinewood, along with a power plant set and the famous cantina."
Later LatinoReview added:
"All of post-production and re-shoots are to work around Abrams and Actors schedules. 90% of shooting in London. Also they are building the Millennium Falcon on at Pinewood. Interior is done."
Yet the biggest confirmation came from Star Wars: Episode 7 production designers Doug Chiang and Ian McCaig:
"During the Q&A part of the meet and greet the pair answered questions regarding the work they were currently doing at Skywalker ranch and hinted with a sly wink that it would be cool to see a female Jedi in the movie and also confirmed that they will be bringing back the things the fans loved including a certain spaceship that was absent from the prequels…"
Now Scum and Villainy say that the Millennium Falcon has already been build but outside Pinewood Studios and is expected to be transported to the studio soon.
According to a source close to production:
"A full-scale 1:1 Millennium Falcon has been built as well as the interiors of the ship for filming," they explained. "The Falcon is done – inside and out. The sets were built off-site, ready to move when Lucasfilm/Bad Robot were ready to move into Pinewood."

If the rumors are true then probably Disney has bigger plans for the Falcon. I doubt they will bother building a full scale ship just for one movie. Maybe it'll be used in the rumored Han Solo spin-off movie as well as in one of Disney's future Star Wars attractions.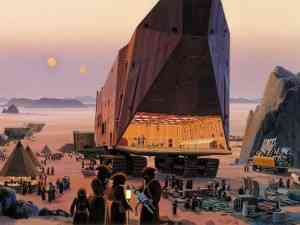 And here are some more rumors from JediNews' source Jedi Master SQL:
JN: Do you think the Big 3 will be announced as a group or individually?
SQL: I have only seen evidence for one of them having signed. I am not joining the sceptics suggesting they are not all back, but I can only tell you what I know.
JN: What can you tell us about the outline for Episode Seven?
SQL: Very little, but one small hint. Star Wars The Old Republic has added a planet that has long been mentioned but never seen on film…
Every week I hear more amazing actors linked with the roles, and I feel that we will have an incredible cast when all is said and done. Just this past two weeks I have heard the names of Emmanuelle Chriqui, Alexis Dziena, and Taissa Farmiga all linked with roles – all exceptionally talented actresses. Whether any of them are cast is still unknown, but if you consider the quality of the people they are looking at – you can see the quality of the effort.