Electronic Arts Won't Create Games Based on the Upcoming Star Wars Movies. EA's Deal is for 10 Years.
In a presentation at the UBS Global Technology Conference, EA chief financial officer Blake Jorgensen revealed some details about the upcoming Star Wars games…



Excerpts from the UBS Global Technology Conference:
Eric J. Sheridan – UBS Securities LLC
One last topic we wanted to talk about was the next Star Wars game, the franchise that will come through the licensing deal with Disney; if you could help us understand how that came about, sort of what are the challenges and opportunities of developing that kind of game alongside of, obviously, an enormous movie title that will no doubt do big business?
Blake J. Jorgensen
Yes, so I mean we've done movie games over the years and we wanted to make sure that we weren't doing a movie game i.e., game based on the movie, the beauty of the Star Wars franchise is that it's so broad and so deep, you don't have to do a movie game, you can do a game that's very focused on the world that's been created around Star Wars.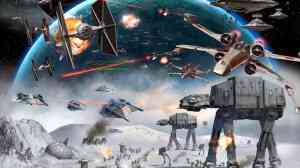 We had a long relationship obviously with Lucas on the original Star Wars and when Disney took over Lucas, they really wanted to maintain a video game business around Star Wars. They felt it was very valuable and a lot of people loved the games historically.
And so they came to us because of our partnership and they knew that we could help them develop really great games and we struck what we believe is a fantastic deal which allows us to be able to build games in many different genres across multiple types of platforms over 10 years and we'll leverage the strength of the Disney marketing associated with the Star Wars properties both in movies and other things that they may do over the timeframe. We'll try to align those with that marketing, power the Disney has so it will get aligned with timing around the movies, but it won't necessarily be aligned with the movie.
We've shown a trailer for one of the possible games that we're going to make Battlefront and it's got a lot of people very excited because it's a very popular game from before. We have the team in DICE, building some early stages of various games and building them in Frostbite, so it will be a very exciting game play and you'll hear more about it in the years to come, but we're very excited about the opportunity.

Eric J. Sheridan – UBS Securities LLC
So you have a fair bit of flexibility to create content around the universe in general that J.J. Abrams and his team is going to build up with the Lucasfilm's franchise. It's not totally tied in just to the movies.
Blake J. Jorgensen
Yes, definitely very much – so, very much around the historical types of games as in play plus new games that we're inventing around their content, around the broad Star Wars content, and around some of the new assets that they may produce over time as well.
DICE, Visceral Games and BioWare are currently developing new "Star Wars" games for EA, with the first, "Star Wars: Battlefront," expected to be released in 2015, the same year Disney and Lucasfilm release "Star Wars: Episode VIII" on December 18.
They've already released "Star Wars: Tiny Death Star," produced by "Tiny Tower" makers NimbleBit, and a sequel to "Angry Birds: Star Wars," with Rovio.
Source: allgamesbeta