35 Years Since Star Wars: Holiday Special.
"35 years ago today, Star Wars fans were excited to see the first follow-up to the record-breaking, smash hit film that had opened the year before. Unfortunately, what they got was The Star Wars Holiday Special…"

From IGN:

Yes, it was on November 17th, 1978 that the infamous Holiday Special had its one and only airing. It's become an infamous piece of Star Wars history – never legally released in any format since, making it a popular bootleg item. George Lucas himself, who had little to do with the Holiday Special, has made snarky references to it, though amusingly, elements introduced in the Special — most notably, Chewbacca's family — did actually continue on via various Expanded Universe novels and such.
The Star Wars Holiday Special is a pretty amazing "What were they thinking?!" display. Long sequences, spoken in the Wookiee language with no subtitles? Chewbacca's father having what appears to be awfully close to virtual reality sex with a human woman? Jefferson Starship?! Bea Arthur?! Oh, and of course, Princess Leia singing the Life Day song. It's like the people making it were trying to get themselves on Mystery Science Theater 3000 – you know, if that show existed yet when it was made.
George Lucas has suffered criticism from fans in the past few years, with some saying he should turn the reins of Star Wars over to someone else. But the last time he did that – he had almost nothing to do with The Holiday Special – look at what we got. Lucas himself has ripped into the Holiday Special in interviews and convention appearances when the subject is brought up, and seemed to have a great time declaring, "It was so bad!!!" when he voiced himself in a promo for the Robot Chicken: Star Wars special and opened up to a psychiatrist about The Holiday Special.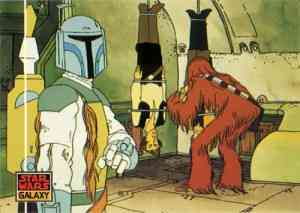 If nothing else, The Star Wars Holiday Special gave us Boba Fett. That's right, the ever-cool and popular bounty hunter made his first appearance here – about a year and a half before Empire Strikes Back opened – in a short animated segment of the special. It's worth noting that the Boba Fett segment is the first time we saw any of this galaxy in toon form. Of course, the animated portion of The Holiday Special isn't all that good either, but at least it's an actual Star Wars style adventure, as Luke works with a mysterious new ally, Boba Fett, to rescue Han and Chewbacca… only to find out that Fett is not to be trusted.

If you still haven't seen it: