Billy Dee Williams Talks Star Wars: Episode 7 and Harrison Ford.
Billy Dee Williams was recently at the Wizard World Nashville Comic Con. As expected while discussing other topics he also talked about the upcoming Star Wars movie…

First the actor was asked an interesting question by a fan. He was asked "how big of a jerk Harrison Ford was". Williams was quick to defend his colleague:
(via comicbook.com)
"Why would you say that? That's interesting. Why would you say he's a jerk? No, he's a good man. He's a very good man. And you can tell, for me anyway, you can tell a lot about a man by the way he deals with his children. And he's beautiful with his sons, so I have a lot of respect for him. He's a very bright person."
Later when asked if he would be participating in Star Wars Episode VII, he said:
"Everybody wants to know that. I have no idea. I don't know what they're doing, but they're still just in the middle of writing all that stuff. Obviously a lot of rumors are going around, but I don't know. But if they ask, I'm quite happy to do it."

He also shared some ideas about his character if he was asked to reprise his role:

"My idea was to come back with a daughter who was a Jedi, a beautiful daughter who was a Jedi. But then somebody else came up with the idea of having a son, who's a villain, which would be very interesting."

It's interesting that like Chloe Grace Moretz he also says that "they're still writing it". I wonder if they indeed know something we don't or they're just making an assumption.
If you remember few months ago Bad Robot released the following picture: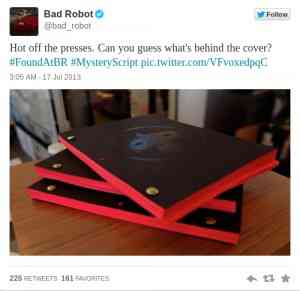 Many people thought this was the Episode 7 script. And indeed if you look closely you can see that the way the 3 copies are arranged they actually form the number VII. So it's interesting if they're still doing some rewrites or it's indeed ready and these actors are just guessing.
(EDIT)
Something for one of the guys from the comments. Take three books and make the same arrangement, you'll see. 🙂