Twitter Buzz: J.J. Abrams on B. Cumberbatch. Millennium Falcon Pics From the Set Expected to Leak. And The Wookie Walks…

Several interesting tweets hit the web yesterday. Check them out after the jump…

There was some kind of a press conference at Bad Robot offices at Santa Monica yesterday. Probably it was about J.J. Abrams' upcoming TV series Almost Human which he is producing. Still some of the reporters have manged to ask J.J. some Star Wars questions.


The LA Times reporter Yvone Villareal has posted this on twitter:
JJ Abrams on #StarWars: "We're working our asses off trying to get things in place w/ casting." Benedict Cumberbatch? "I love that guy."
— Yvonne Villarreal (@villarrealy) September 20, 2013
This surely gives some hope for the Benedict Cumberbatch rumors.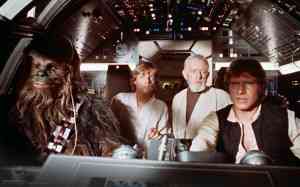 Remember the rumor about the Millennium Falcon being build at Pinewood Studios? Looks like Latino Review are trying hard to prove their words.
Just after LR leaked online some legit photos from the new Teenage Mutant Ninja Turtles movie (already removed by the request of the studio) they revealed that they are trying to get a picture of the Falcon from the set.
Sorry folks but I had to remove the TMNT photos…Working on getting the Falcon one.
— LatinoReview-Kel (@Latinoreview) September 20, 2013
If we showed you what the MILLENNIUM FALCON looks like these days, is that something you would be interested in? RT for HELL YES! #StarWars
— elmayimbe (@elmayimbe) September 20, 2013
So stay tune for this one although I doubt that Disney will allow that to happen.
Now some good news for our favorite Wookie. It looks like Peter Mayhew can already stand and walk and even he'll make an appearance at the Dallas Comic Con on October 4-6.
Tomorrow I will be in a rehab facility much closer to home. I can stand and walk, but I have more conditioning work to do. #WookieeMuscle
— Peter Mayhew (@TheWookieeRoars) September 17, 2013
My daughter Katy giving me the best medicine! Come see the new knees at Dallas Comic Con Oct 4th-6th! Cheers – Peter pic.twitter.com/LYzOvHSuem
— Peter Mayhew (@TheWookieeRoars) September 17, 2013