Possible Star Wars Clues Found Before Disney's D23 Expo.
The long awaited event where Disney presents new projects for film, television and various theme park attractions starts in just a few hours. Here are the first interesting clues and rumors found before it has even started…




The first interesting clue is a whole pile of crates that arrived at the event labeled with interesting names like lightsabers, C-3PO, Rancor food, Bantha milk and "Orange Harvest". Surely the name is a nod to the production title of Return of the Jedi which was "Blue Harvest".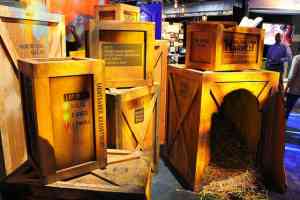 Now the question is: Is this a tease to Episode 7 or just a code name for a theme park saying that Star Wars Land is coming to Florida (land of oranges). We just have to wait a few more hours to see.

Also you can see that there are mysterious blueprints sticking out of one of the crates, revealing words like "Jedi" and "Scooter".
Here is what Imagineer Jason Surrell had to say about the wooden crates that just landed at the D23 Expo before being opened at Walt Disney Imagineering. It's not much but there could be a few hints.
Attendees can expect announcements that the Disneyland PeopleMover in Anaheim will return, converted to a Star Wars Speeder Run.
That the Captain EO film will be transformed into a 3D preview for the next Star Wars movie.
At Disney's Hollywood Studios at Disney World, they will be putting in an Star Wars Cantina themed bar and restaurant (with a certain track on repeat play).
And that Tomorrowlands at both parks will also gain a Star Wars skin, movie tie-ins willing.
So stay tuned to find out what happens. Are we going to have some Episode 7 cast announcements or not! 🙂