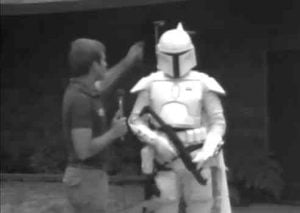 Take a look at these two very cool videos from 30 years ago with the first screen test of Boba Fett showing off the original all white costume and a TV commercial with C-3PO and R2-D2 recorded to promote the Star Tours ride at Disneyland…
Boba Fett's screen test was done before his screen debut in The Star Wars Holiday Special in 1978. Two years later Boba Fett appeared in Star Wars: Episode V – The Empire Strikes Back and became one of the fans' most favorite characters in the Star Wars franchise (although he had very little screen time).
C-3PO raps in a 1986 TV commercial promoting the new Star Tours ride at Disneyland.