Electronic Arts to Show First Star Wars Game Plans with Disney on June 10. KOTOR is Coming to iPad + New Star Wars Battlefront Tease!
In an official announcement EA Labels president Frank Gibeau revealed that the company's future game plans will be discussed at the upcoming E3 event on June 10 at 1 pm PT…
Our E3 briefing "The Download: EA 2013 Preview" will be a showcase of next-generation games like Battlefield 4, Need For Speed, a full range of EA SPORTS games and a first look at our plans for the Star Wars partnership with Disney. Tune in on Monday, June 10 at 1pm PT on Spike TV or at www.ea.com/e3 to experience it all.
____________
In other news IGN has an interesting story.
In a newsletter promoting a Call of Duty sale includes accidental header text "The critically-acclaimed Star Wars RPG is now available on iPad…".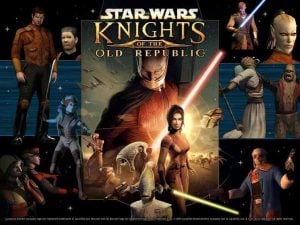 Aspyr Meida's is responsible for the original Mac port and has been very active recently on the App Store, so for now this story seems pretty legit.
________________
Also Electronic Arts has teased that one of its multiple in-development Star Wars titles is an all-new Battlefront game.
Gamespot spoke with EA's CFO Blake Jorgensen who offered some hints:
"The opportunity to do a new Battlefront, for example, which is one of the very popular Star Wars games, or some of the other traditional games that were made, is very exciting."

Star Wars: Battlefront III, despite never actually being announced, was reportedly 99 percent complete, though this claim was contested.

Jorgensen further explained that its new Star Wars games stand to benefit from the marketing potential at Disney, a company that owns many consumer-focused enterprises like amusement parks, film studios, cruise lines, and media outlets.

He also reiterated that EA's new Star Wars games will not be based specifically on any of the upcoming Star Wars films, though they may be released near them to leverage the marketing opportunity.

"These aren't movie games, these are stand-alone games. But obviously they would come out near the movies and be able to tailgate off of some of the buzz that will be created around the new Star Wars movies."