A Life in Film: Interview With Peter Cushing.
Author David Miller spoke with comicbookmovies about his latest book " Peter Cushing: A Life in Film" A great story

combining

conversations with Cushing's friends and colleagues, archive material held by the BBC and Hammer Film Productions, and previously unpublished correspondence with Cushing himself.
And here's the interview

:
Firstly, can you tell us about how you approached condensing the amazing career of Peter Cushing into a single book?
It was quite a job! You never know what is going to be someone's favourite Cushing role so I tried to get everything in – obviously some things deserve more attention, but everything gets a mention. I tried not to use material from Cushing's own autobiography, because I assumed fans would already know that, so I only used it if I absolutely had to.
What were the main challenges you encountered while writing this book?

We are moving further and further away in time from the events and things tend to get crystallised in anecdotes – most of them from Cushing himself, so I wanted to get a different angle on what happened. I tried talking to people who hadn't been interviewed before – not the obvious suspects. I watched all the films and as many TV plays as still exist – the BBC's version of Nineteen Eighty-Four is a real stand-out – I read a lot of the plays that he appeared in.
What exactly should we expect when it comes to the format and content of Peter Cushing: A Life in Film?

It's chronological so that gives it a rock-solid structure, but the story unfolds rather beautifully. There are these very distinct periods in Cushing's life, each one adding to the next – we begin in repertory theatres, then he goes to Hollywood, back to Britain in the war for more stage work, then the pioneering days of British TV, then Hammer and the film career. There are exceptions, obviously, but really his work divides up so neatly that I'd have been a fool not to stick to that.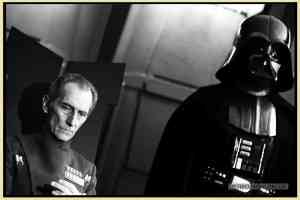 What will the previously unpublished correspondence with Cushing include?

I was very lucky to get to see the BBC's written archives, which has a wealth of original memos and correspondence – Cushing was a great letter-writer, and it's all stored in there. There are letters from his wife too, which are an absolute joy. There are also a few letters where – not surprisingly – tempers flare. There was a point where the BBC and Hammer were fighting over him, and he wanted to make the films because it took his career to another level. People might joke about him being a 'saint' but he wasn't a pushover.
How about the various friends and colleagues you reached out to?

I think I was able to talk to colleagues from every stage of his career. Stage people, television people, as well as the Hammer crew. A lot of people who knew Peter genuinely got tears in their eyes when they were talking about him, he was so dearly loved. One of the first people I spoke to was Ingrid Pitt, who was a very good friend of Peter's and she really pushed to help me get the book published. She died in 2011, but she was an absolute darling.
And the archive material?

I wanted to find out exactly when things were done – sometimes there was only a week between one Hammer film and the next, they'd just repaint the sets and start again. Sometimes working on a film and play at the same time. Details can add so much to the story, like if you find out someone was ill or they'd had an argument with the producer. The chronology in the book came from so many different sources, I think it's the most comprehensive anywhere, but I'd love to find something new!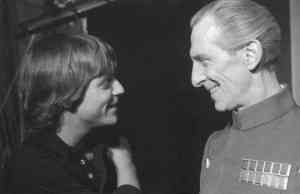 Most of our readers will know Peter from Star Wars. Any interesting stories in particular you can share with us about his time on that film?

It's weird to think that the studio stuff for Star Wars in May 1976 must have been just like any other job for Cushing – he was only involved for a few days, he couldn't possibly have known how the film was going to turn out. The best-known anecdote is that Cushing wore carpet slippers as the Grand Moff Tarkin because the boots they provided for his costume were too small. I spoke to David Prowse recently and he confirmed that the story was absolutely true. But one of the interesting things for me that Cushing does is to make Tarkin very slightly afraid of Darth Vader. One of Cushing's great skills was his ability to convey fear, which he does in many films, and with these occasional tiny, haunted glances at Vader he conveys this incredible sense of unease. It gives an unexpected dimension to Tarkin, both he and Vader are made more frightening.
In your opinion, what do you think was Peter Cushing's most iconic and memorable role?

It's difficult. He was so good as Baron Frankenstein and perfect as Sherlock Holmes. But I think it has to be Van Helsing in the Hammer Draculas. The stand-off with Christopher Lee at the finale of the first film is phenomenal. It's done with such power, and there is this genuinely iconic moment when Van Helsing brings the candlesticks together to make a cross and force Dracula into a shaft of sunlight. One of the great things is that Cushing actually devised that scene himself. There is a genuine sense of heroism, of good overcoming evil. The film is still enchanting and exciting audiences more than fifty years after it was made.
Is there anything else you would like to tell the readers of ComicBookMovie.com?

Buy the book, it's very good! No, seriously – This year is the hundredth anniversary of Cushing's birth and it's pretty incredible that we're celebrating the life of someone born a century ago. The films are being released on Blu-ray and it gives them such a new lease of life – some look like they were made yesterday – they really are worth looking out. I hope I've helped to keep the Peter Cushing flame burning a little longer, but I think it'll be going for quite a while yet.