The SDCC is just around the corner. The convention starts tomorrow and it looks like many of the cast members are returning to their US homes for a deserved break…
First here's an interesting report from JediNews:
Interesting news comes from Pinewood as we have it on very good word that Mark Hamill, Carrie Fisher and Peter Mayhew have returned home to the States while Harrison Ford continues his rehabilitation from his 12th June accident.

We understand that this is the reason why Mayhew pulled out of his appearance at London Film and Comic Con (although Carrie Fisher still agreed to appear).
And thanks to DailyMail now we have a confirmation that Harrison Ford is also back in the States (LA).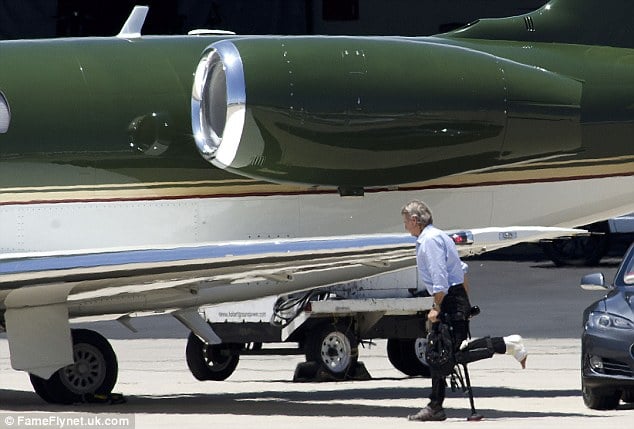 Breaking his ankle at the age of 72, Harrison Ford could be forgiven for wanting to take it easy.
But it appears the actor is determined his injury won't affect his independence as he was spotted hobbling on to his private jet.
Although wife Calista Flockhart and their son Liam was nearby, the veteran actor was determined to carry some items himself, including a bottle of wine and piece of paper while making his way up the stairs to the plane.

Harrison is still able to drive as he arrived at the airport with wife Calista Flockhart and their son Liam.
One of our sources confirmed that this break is most likely the mentioned by Lucasfilm 2 week hiatus that was supposed to happen in August:
In August, the team will take a brief two-week hiatus while adjustments to the current production schedule are made as actor Harrison Ford recovers from a leg injury. Harrison is doing well and is looking forward to returning to the set soon. Shooting remains on track to wrap in the fall with the film scheduled for release on December 18, 2015.
Maybe they decided to moved it earlier because of the SDCC or for another unknown reason.